What's Hot in Ghana: Remembering Nkrumah's Legacy Through Volunteerism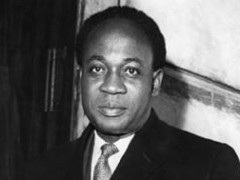 Sarah Bernhardt once said, "legends remain victorious in spite of history". She couldn't have said it better. In fact, legends still remain with us even today. That can be said of Ghana's founder, Dr. Kwame Nkrumah, a scholar, a president, unionist, revolutionist and a gallant soldier of African dignity.
Last week, Ghana celebrated the birth of Nkrumah, one of the country's great leaders. On the 21st September, 1909, Nkrumah was born. His contributions to Pan-Africanism was immense and that was what led Ghana to independence in 1957. As a nation it was incumbent we, Ghanaians, celebrate our founding father's birthday. His selfless contributions to Ghana as far as socio-economic development was concerned are still beneficial in this  millennium as a nation.
Proponents of pan-Africanism and selfless leadership in this age are still upholding the integrity of the legacy he has set for the country. Other young people across the country are exhibiting great skill and talent to make the country move forward in terms of job-creation, empowerment, etc. Ghana's future is seen as a bright one as the current crop of youngsters are honing their skills in effective leadership, entrepreneurship and personal development to be independent and contribute their quota to the development of Ghana.  This is evident to the fact that, a legacy left by the one who struggled for independence for us and took a visionary decision for us is till seen in the youths of the country.
GhanaThink, an African-focused think tank that seeks to deploy and mobilize talents for the benefit of Ghana and consequently Africa and the whole world saw the need to turn this day into a National Volunteer Day – a day that encourages people to use the holiday to create, support and join voluntary activities across the country. Promotion and advertisement are made through radio and television channels.
However, most people leveraged on the social media landscape and made 'noise' about their volunteering activities and the call to serve as done by Osagyefo Dr. Kwame Nkrumah. Last year's voluntarism saw about forty activities with over three hundred volunteers impacting over thousands of people across the country. These activities, which include skills training programs, clean up exercises, tutoring in a particular course, reading clinics for children, blood donation drives, creating playing grounds for children in the government schools to painting schools and faded zebra crossing happened in Accra, Tema, Nsawam, Kasoa, Cape Coast, Takoradi, Kumasi, Koforidua, Saltpond, Tamale and Wa.  This year's National Volunteers' Day  also saw great improvements following successful activities last year  (#NVDay14). Below are some of the tweets from participants in this year's #NVDay14.
Happy Founders Day! Where will you lead Ghana today? pic.twitter.com/0FV9lqnDKF

— US Embassy Ghana (@USEmbassyGhana) September 21, 2014
#NVDay14: Join Rotaract Club of Accra South in commissioning a new library at Tema Community 8 No.3 &4 Primary today. Call 0205958770

— Tema #bctema (@Barcamptema) September 22, 2014
.@GirdcenterGH's reading clinic for the New Life Orphanage at Nungua underway currently #NVDay14 #InformGhana pic.twitter.com/q6R9LArvDC

— Inform Ghana (@InformGhana) September 22, 2014
Roof of 3 classrooms & Head's office ripped off during storm. Before & work in progress pictures. #NVDay14 pic.twitter.com/pQFIABwToY

— Nana Awere Damoah (@NDamoah) September 21, 2014
The idea of volunteerism and selfless leadership as seen in our first president is an unprecedented one. As Ghanaians and Africans in general we have to  adhere to such principles if we want to enjoy the best on our land. The philosophies of Africanism which includes "Ubuntu", the belief in the universal bond of sharing and giving that connects humanity must be seen in us if we can truly develop in every sphere of our daily lives.
Tags: Africa, ghana, Kwame Nkrumah, legend, voluntarism, volunteerism