When justice fails in Bulgaria, citizens are forced to take the law into their own hands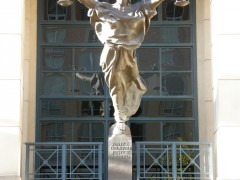 "It's not fair that I am free, but the law supports me," said 16-year old Borislav shortly after he was released from detention. "I am very grateful there're so many loopholes in the system." A little over a year ago, he killed the 12-year old Tzvetan at a tram stop in Sofia, stabbing him 35 times with a kitchen knife. The two boys were neighbors in a respectable area of the Bulgarian capital. Borislav confessed that he stabbed Tzvetan because the boy owed him 25 euro for ruining some of his cannabis plants.
Citizens were immediately outraged when Borislav was released, signing petitions for a proper sentence for the 16-year old, and withdrawing their kids from the school Borislav attends. Neighbors say they hurry by and look the other way when crossing him on the street, and Tzvetan's parents  – who have established a foundation dedicated
to preventing violence among kids – say they're terrified of bumping into him. They're afraid of letting their other two children out of their sight, and don't even allow them to go to school alone or ride their bikes in the neighborhood.
While these parents and neighbors are 'only' taking defensive measures to protect themselves and their families, another recent case of a citizen who took justice into his own hands has stirred Bulgarian society. Yordan Opitz, an ethnographer  shot to death a 25-year old drug addict trespassing in the main entrance of his apartment building because he thought the man was a burglar. Opitz and his neighbors had been victims of numerous housebreaks and had complained many times to the police. But no effective measures were ever taken. The 25-year old drug addict was also 'well-known' to the police, yet once more the authorities failed to take adequate measures.
Public opinion on the case is sharply divided – Opitz is either a 'cold blooded murderer', or a 'victim' who has to be pardonned. While arguing these two standpoints, the most important issue is why in the year 2012, in a country that is a democracy  supposedly under the rule of law and a member state of the EU, citizens are compelled to take justice into their own hands in a tit-for-tat fashion?
These two cases are not the only ones, they're just the most recent examples. Last summer a whole village attacked and burnt down the house of a notorious Roma king after his relatives deliberately ran over a young man from the neighborhood. Previously the Roma king's family had been reported to the police for terrorizing the village for years. But yet again the authorities took no action until people's patience was pushed to the limits and they decided to act on their own. The result was clashes, gleefully joined by extremist gangs, that threatened to escalate into an full blown ethnic conflict.
I could go on describing similar stories – victimized people themselves becoming offenders protecting their own property or even their own life or taking revenge for their loved ones, or stories where the police, the prosecutors' office and the courts simply fail to do their proper job. Deeply symptomatic of the state of Bulgarian society, all these stories point to a complete failure of the rule of law.
Yes, conflicts are part of human nature. They won't cease and this is exactly the reason why law-enforcement is crucial to our society: so that society can function and develop, – and become the democracy it claims to be, instead of reverting to primitive times, to a community ruled by mob law.
Tags: Bulgaria, conflict, democracy, democracy rollback, ethnic conflict, justice, law, protests, Roma, Security, violence