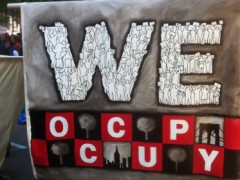 For weeks, reporters, pundits, and political strategists have been puzzling over this question. Now, the organizers of the protest have provided at least part of the answer. A couple of weeks ago, they invited a CUNY sociologist, Héctor Cordero-Guzmán, to survey visitors to their main Web site, occupywallst.org. More than sixteen hundred people responded to Cordero-Guzmán's questionnaire.
Here are the main points, of Cordero-Guzmán's study:
Most of the respondents are young and well educated. Almost two-thirds of them (64.2 per cent) are under thirty-four, and more than nine in ten (92.1 per cent) are either in college or have graduated.
The respondents are overwhelmingly white (81.3 per cent).
Two thirds (67 per cent) are male. Nearly a third (30.4 per cent) are female. The other two per cent "preferred another gender designation."
Only half (50.4 per cent) work full-time. A fifth (20.4 per cent) work part-time. Roughly one-in-eight (13.1 per cent) are unemployed.
Nearly three quarters (71.5 per cent) earn less than $50,000 a year, and a quarter (24 per cent) earn less than $25,000 a year. Given that many of them are relatively young and don't work full-time, this is not really surprising.
Politically, seven in ten (70.3 per cent) regard themselves as independents. Roughly one in four (27.3 per cent) identified themselves as Democrats, and one in forty-two (2.5 percent) as Republicans.
The O.W.S. organizers were keen to stress the fact that so many of their supporters are politically independent. "Occupy Wall Street is a post-political movement representing something far greater than failed party politics," they said in a post about the survey. "We are a movement of people empowerment, a collective realization that we ourselves have the power to create change from the bottom-up, because we don't need Wall Street and we don't need politicians."
You can find the entire paper as a PDF file here.