Why Brazil should be interested in regional integration?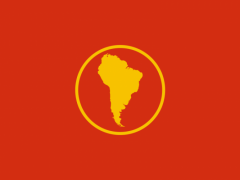 Brazil was under almost 400 years of Portuguese influence, and only at the beginning of the 20th century did the country begin to form its own foreign policy.
Most of its foreign policy was predicated on the North-South axis. However, with Lula as president in 2003, the country began not only to pay more attention to its southern partners, but also to reshape its policy on a South-South axis.
After several attempts at regional integration, in 1991 Brazil finally became part of a customs union, along with Argentina, Paraguay and Uruguay. Mercosur was born.
As a next step, South American countries continued the regional integration process and in 2004 created Unasur, the Union of South American Nations, an intergovernmental union integrating two existing customs unions – Mercosur and the Andean Community of Nations (CAN).
Today, Brazil is the richest and biggest country in terms of size and population in the whole of South America. So why should the country be interested in regional integration?
At any level of economic integration, countries lose a certain amount of national sovereignty and degrees of freedom in the conduct of macroeconomic policies, to give way to a coordinated and joint action.
If Brazil's neighbors had stronger economies and more equal societies, Brazil itself would be benefit as a country by having more customers and trading partners, and would also gain by being part of a more integrated South America with more weight and a stronger voice in the world.
In other words, besides attending to its own economic growth, Brazil has also to work for, and invest in, regional development. Being a member of Unasur is part of this idea.
According to its Constitutive Treaty, Unasur seeks to develop an integrated space in terms of politics, society, culture, finance, the economy and the environment. This new model of integration includes all processes and agreements made ​​so far by Mercosur and CAN. Its goal is to eliminate socioeconomic inequality, promote inclusion and the participation of civil society, strengthen democracy and reduce asymmetries within the framework of the sovereignty and independence of states.
In a globalized world, it only makes sense to seek equality as a group. By working together on problems, countries may reach a better solution that can benefit millions of citizens.
For instance, the presidents of Argentina and Brazil  met in April April to talk about bilateral commerce. On that occasion, the Argentinean president Cristina Kirchner mentioned a common issue between her own country and Brazil: the car parts supply industry. "Both in Brazil, our largest trading partner, and in Argentina, the [automotive] terminals are of foreign origin."
As president Kirchner mentioned, Brazil is the Argentina's largest trading partner. The two countries has a special relation: besides sharing a common passion for soccer, they were both instrumental in creating South American integration. In 1985, both countries had just put two decades of military dictatorship behind them and a bilateral deal seemed commercially favorable. So they signed the Declaration of Iguaçu, considered the first step towards the creation of Mercosur.
As a Brazilian living in Buenos Aires, I could not agree more that this is a great time to invest in regional integration. The region is increasingly developing and strengthening, and Brazil should indeed work harder to create and implement policies to help not only the 200 million Brazilians but the 350 million people who call themselves South Americans.
Tags: Argentina, brazil, CAN, free trade, integration, Mercosul, Mercosur, south america, trading partners, Unasur