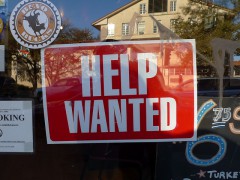 I'm a "Gen Y-er." At the age of 30, I just fit in to the classification. Over the past several decades, work culture has changed significantly in Australia, and some employers would complain of our desire for flexible work options, training opportunities, and work-life balance. On the other hand, we offer energy and enthusiasm, and perhaps they need to better accommodate our needs. One thing is certain: Generation Ys make up a significant portion of the workforce and in another 2 decades time, we will still be at the prime of our careers. Fortunately, Australia has been relatively sheltered from the worst effects of the global economic crisis. Nonetheless, more needs to be done to provide more job stability and suitability, especially for the younger workforce and for parents with young children.
Shifting work culture: Australia then and now
The Australian Bureau of Statistics recently celebrated the 50th Anniversary of the national Labour Force Survey (LFS), providing a fascinating window of insight into changing work culture in Australia. Half a century ago, the labour force was characterised by a marked division of the sexes and their expected roles in society. Part-time work was uncommon and childcare was rare, leaving women with two options: starting a family, or working full time. The dominant occupations were "blue collar" jobs such as tradesmen, production process workers and labourers.
50 years later, the tables have turned: almost all employment growth has been in the service sector (so called "white collar"), and there has been a substantial increase in part-time work. In 1961, only 34% of women participated in the labour force, compared to 59% in August 2011.
Generation Y's
Despite the aging population, there are a massive 4.2 million Generation Y-ers in Australia (20% of the population). These young people are either entering employment or completing their studies or both.
Despite being relatively sheltered from the effects of the global financial crisis, a recent report suggests that one in four young Australians are not fully engaged in employment or training despite government targets aiming to get more young people qualified or employed. And although more young people participating in education or training, there is a declining number of teenagers in full-time employment. Many are seeking full-time work but can't get it, with rates of part-time employment increasing significantly. Many of those with part-time jobs are unable to enter the housing market, in search of more work or more satisfying work. On the other hand, many young people are not as "career-focused" as their parent's generation, and simply want to find more meaningful ways to spend their time, whether it be at work, volunteering, or pursuing their hobbies.
Where to from here?
Generation Y represent the future. Work culture has changed significantly, and while we may no longer hope for the 15 years average tenure and unwavering loyalty that our parents displayed to their employers, I believe many of us Gen Y-ers still long for more job stability. Indeed, research suggests that job hopping is not an end in itself but something young workers do when they see no other choice. Many of my friends who are in part-time work feel they need to work two part-time jobs or combine part-time work with work from home just to make ends meet. Employers need to be more flexible and adapt to the needs of young people and young parents if they want to retain the brightest minds and offer greater job security; while governments should ensure equal employment and training opportunities for all Australians, especially those from lower socio-economic backgrounds.
---
Tags: education and training, employment trends, job security, work life balance, youth unemployment