Women and Tourism: The Gross Domestic Potential of Tanzania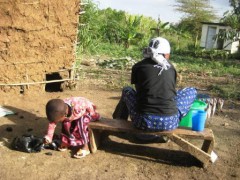 Mention potential, under exploitation and areas for growth re employment in Tanzania and two themes will consistently resonate – women and tourism.
While tourism is a healthy contributor to Tanzanian's GDP, second overall, it is regularly reported to be under performing, with seemingly boundless possibilities. This is recognised both formally and anecdotally. Women, arguably the greatest financial contributor to any developing nation, especially Africa, are under represented in the formal sector, underpaid in the informal sector and underappreciated in general. By combining these two areas of unlimited potential Tanzania could, as Arrianna has urged in her article, fill 'the right type of jobs' by 'the right type of workers' and in the process tackle 'poverty issues such as education, nutrition, health care and housing'.
In 1999 the Tanzanian government recognised the huge potential for growth in Tanzanian tourism and set about doubling its contribution to GDP, from 16% to 30% by 2010, only the GFC capped its growth at 8.2%. In the same decade studies on gender and employment showed:
Therefore, by combining the potential of the tourism sector and the shameful underemployment (both quality and quantity) of women, Tanzania could take massive strides in growing both. Even the most casual observer of development studies recognises the flow on effects of educating and then employing women in quality, formal sector jobs – increased household income, improved maternal and infant health, a steadying or even decreasing population, improved education for the children of said women, a decrease in violence against women and improved social standing of women – and Tanzania is a country in desperate need to improve in all of these areas.
As Arriana Coleman correctly identifies, job creation is only half of the goal, the jobs must be quality, formal sector positions in order to make positive, sustainable and meaningful changes.  At present, tourism in Tanzania is being held back because of:
Competition with neighbouring Kenya, who offer similar attractions
Lack of domestic ownership (eg. 60 per cent of hotels are foreign owned), restricting reinvestment and distribution of tourist dollars
Poor strategy and planning
Poor infrastructure – roads and airports in particular
By investing in airports and road infrastructure, increasing the capacity of national parks, developing international routes into Tanzania and broadening the tourism market Tanzania could concurrently grow tourism and employ women in a range of 'stable and reliable' formal sector positions. While many of these positions would employ women in the traditional roles of customer service, administration and hospitality it would also open doors to engineering, planning, surveying, advertising, telecommunications, building and a range of other white collar, traditionally, male roles.
Finally, with the political unrest in African tourist hotspots Egypt and Tunisia, an election year in Kenya and an endorsement from the New York Times, there is no better time for Tanzania to start than now.
Tags: Development, education, employment, gender, Tanzania, Tourism, women