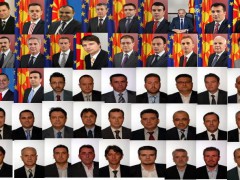 Look at any TV report about a business forum in Macedonia, a chamber of industry and commerce convention, a government session, a high level political meeting or a conference of municipal mayors* – and what do you see? You see that there are almost no women there!
Then listen to a discussion about women's rights. What does it focus on? It focuses on women.
And this is precisely where we go wrong.
We know why there are only small numbers of women in these TV images. It's because Women still can't have it all. Anne-Marie Slaughter liberated all women when she said this publicly. There are several reasons why this is so. Let me look at one of them.
This one reason is – because men have never had it all!
Most men have succeeded professionally, making their economic and political contribution worldwide because they have not been at home making their domestic contribution to their families. They have not been home looking after their children, feeding and bathing the babies, and helping the kids with their homework. I'm not talking here about the whole of male society in general or in Macedonia. I'm focusing on the successful men, the political and business elite. All these men have sons and daughters they see for one hour a day at most. These are the men with power, the men  who make policies, men who can and do make changes.
Go for dinner at any one of the most exclusive restaurants in Skopje and you'll see it's filled with men. Men broker deals while having expense account business dinners. They have families and children, but if they work 24/7… let's be honest, how often do they see their children? At the same time, can the wife make as significant a contribution to politics and business as her husband?  Who will be taking care of the children if she is brokering deals at business dinners at the same time as her husband? Try to enter politics and you'll find yourself going to political meetings at party headquarters which take place after work and during the late evening. Who's going to feed the baby and take care of the toddler at home?
This means that while the 21 government ministers, 81 male members of Parliament and hundreds of businessmen (I refer to those who have children) are having dinners or meetings or are away on business trips, their children are being raised and taken care of by their wives.
It seems very logical to me. These men have never had it all!
So, this time instead of focusing on how to increase women's participation and instead of analyzing what we gain from the greater roles played by women in society, I propose that we focus on how to increase men's participation in family life.
There is one very easy first step.
Macedonian labour law grants 9 months parental leave for the mother of the new born. A month and a half's parental leave is obligatory for the mother, the rest she can decide whether to use or not, or it can be taken by the father. This option has been a legally granted right to all fathers in Macedonia since the Labour Law was first adopted in July 2005. Yet, in 2012 only 20 men actually look up this option for paternity leave.
Only 20 fathers  of the some 22,000 babies** who were born last year in Macedonia believed that they should take some time off work to be home with their newly born child and allow their wives to go back to work earlier than usual. I consider these men revolutionaries. Men who do not succumb to patriarchal societal beliefs, men who are ahead of their time, men who herald in a new era.
And then I wonder how come we don't have any of these revolutionary men at higher social levels and in prominent public positions. How come we've never seen this kind of men in public life? Are none of our politicians or businessmen revolutionaries or is politics and profit more important than family life?
I put down the challenge. A challenge to all men in politics and business.
Dear Minister, Member of Parliament, Director, General Manager, try to have it all! Should you and your wife or partner have a baby during your time in office,  take paternity leave, spend some time with your baby and allow your wife to return to her job earlier than usual. As a citizen and voter, I will not criticize you for your absence from public office because of your child.
On the contrary, I will consider you a revolutionary man.
* From 2009 to 2013 among the 85 elected mayors there was no woman. In the local elections in March this year two women were elected mayors in the first round.
** Precise numbers for how many of the fathers of the 22 000 babies are employed are not available, so this is a rough estimate.
Tags: children, parental leave, paternity leave, revolutionary, women