Achieving growth and sustainability in the Amazon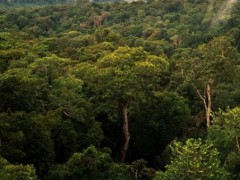 The trade-off between growth and sustainability is a popular and much discussed topic in Brazil in these times of sustainable development. On the one hand, most mainstream politicians, the present government included, are enamored of economic growth at almost any cost, hoping this will welcome back foreign investment. Yet on the other, a growing number of political figures, led by the Green Party and Marina Silva's REDE, argue that such growth is injurious to some of Brazil's key national treasures, including the Amazon Forest itself.
Proponents of sustainable development fall under two broad categories. Some have been known to call for policies that would radically reshape the economy, including the idea of "degrowth" and the stifling of markets in favor of state-led intervention. However, most advocates of sustainable development in Brazil are of a much more moderate kind, one that understands that growth and sustainability can go hand in hand.
In other words what they say is that a sustainable approach to our economy and business interests would actually support growth in the middle and long term – despite the short-term risk of shortfalls associated with the shift from environmental exploitation to a green economy. The point is not just to protect the environment, but also to generate business and jobs in a sustainable way, one that does not depend on exploiting our last forest reserves or natural fresh water basins, one that can last for generations without harming the planet.
Take the case of agri-business and the Amazon forest region. Since Brazil's industrialization, the booming agri-business industry has extended the geographical outreach of crop production and cattle ranching, to the borders of the world's largest rainforest. As such, illegal deforesting has become a complex issue: environmentalists deplore it, while business-oriented entities report that, although problematic, agri-business in the region does indeed promote growth and job-creation.
However, what proponents of growth at all costs ignore is that economic success depends not only on short-term commodity prices (and respective cash-flows), but also on more long-term elements, such as productivity, and research & development. The Amazon is a virtually endless laboratory for new substances, which research indicates could well be used for new break-throughs in fertilizers or pharmaceuticals. This shows that technology is one link between sustainability and growth: we can improve existing technologies (or create completely new ones) by using our current natural resources, to promote long-term growth in the economy. In this context the Amazon can be seen as an extraordinarily sophisticated reservoir of resources with the potential to bring innovation, patents, and business opportunities to Brazil in the twenty-first century.
Furthermore, sustainability also touches on the overall structure of the Brazilian economy. Protecting the environment is not just a question of implementing stricter guidelines for agri-business companies in the Amazon forest region, but also involves pointing the business community to other promising sectors of the economy, such as services, renewable energies and information technology. This can be accomplished, for instance, through a shift in fiscal incentives, from farming activities to more modern and cleaner industries. Once again, a sustainable perspective for the Amazon is closely associated with the transition to a green economy, where business and environmental interests are both taken into account.
Brazil is a country blessed with unique environmental resources. This goes hand in hand with the responsibility of upholding high standards in sustainable development. Not just for the sake of the Amazon – but for the sake of economic development and growth itself which will be of benefit to all Brazilians.