Are Subways the Gateway to Sustainable Growth in China?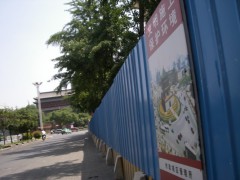 Go to any of China's major cities and you're likely to find an underground metro system either up and running or nearing completion. The expense of building or expanding subway lines has often been the cause of political controversy in the West, but subways have found new enthusiastic advocates in the developing world.
All first-tier cities in China (Shanghai, Beijing, Guangzhou, Shenzhen, along with the special administrative region, Hong Kong) have long had extensive metro systems, and in the boom years for infrastructure spending there was a rush to build them elsewhere as large projects were approved in 28 other cities, An article inBeijing's Caixin Online reports:
Between 2008 and 2009, NDRC [National Development and Reform Commission] data shows it gave the green light for projects in 28 cities worth more than 1 trillion yuan [around 1.6 billion US dollars]. These included 96 new rail lines, which are to be completed by 2015, on more than 2,500 kilometers of track.
China's rapid industrialisation has raised a lot of criticism globally and locally about the huge environmental and human cost involved. There is no shortage of articles describing the enormity of environmental destruction in China. The human cost of breakneck development, already so evident in palls of smog, polluted water supplies  and other indicators, may yet prove even more costly as the numbers of elderly people grow. Yet as this recent Economist article argues, such costs may be a natural and unavoidable trade-off in the process of industrial development. China's huge urban populations and comparative lack of urban development makes it possible to go ahead with infrastructural investment on a scale that is hard to conceive in the developed West. So are subways part of the answer to sustainable growth in China?
Famous for its Terracotta Warriors, the city of Xi'an has just seen a two day trial of a second line,  Line 1 on the new Xi'an metro. More than 15 thousand people participated in the trial for the new East-West line, which is a small number compared to the daily average of 150 thousand passengers the older North-South line carries which has been in operation since 2012. As an inland city of 8 million people, Xi'an is dwarfed by the richer coastal cities and is a late-comer to large infrastructural projects like the ones dotting China's coast.
As prosperity and development spreads to China's interior, the Xi'an Metro is a reflection of the cosmopolitan aspirations of the residents of Xi'an. One advert for the metro system reads, "Metro, Change Life, Metro, Change City" while another proudly announces  "We see the Coming of a Low Carbon Era". Television adverts too couple Xi'an's unique historical heritage with the promise of modernity that a metro system brings. At 800 million Yuan (around 130 million US dollars) per kilometre , this underground rail system is comparatively cheap  in global terms but is record-breaking in China.  To understand the scale and potential of this development, you only have to compare the current map of Xi'an on Google Maps (which has not yet been updated to include the new line) to Xi'an Metro's planning map for the future.
An extensive public transport system, which links people on the urban fringe with employment and opportunities in the city's centre is invaluable in a time of rapid expansion. But what will it achieve in terms of urban sustainability? Beijing's extensive metro system with its record number of 8.4 million passengers a day in 2012 has not reduced PM2.5 (hazardous fine particles) counts in the air nor has it improved the city's legendary bad traffic. Can we hope that Xi'an's new underground rail system will alleviate the bad traffic and even worse air quality in the booming city?
Perhaps in the future, China's new subways and metros will be fundamental to the balance of sustainability and development in the country. However, subways alone are unlikely to make a huge impact on environmental damage, most of which is industrial in nature here. The willingness and ability of the Government to make significant infrastructural investments, along with new laws against pollution, may be a sign of a growing awareness that future sustainability is tied to current developments. Improvements in the the quality of life for China's growing urban middle class and rural urban migrant class now depend on them, and expensive as such efforts to slow down environmental destruction undoubtedly are, they may still prove a bargain in the long run.
Tags: China, sustainable development, sustainable urban transport project, urban population growth