Bad Education – A result of an inefficient government in Uganda?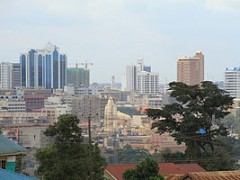 "Education is the most powerful weapon which you can use to change the world – Nelson Mandela"
Two days ago, whiles walking from work to a public bus-stop to pick a motor bike home; ahead of me was a young girl in uniform about 12 or 13-years of age. She had a bottle of mineral water in her hand and was collecting water from a sewer hole; [usually called a man-hole] using the mineral water bottle and drinking from it.
I run up to her and asked her what she was doing and if she knew what kind of water that was. I've seen motor cycle riders wash their bicycles from that particular area, and yes it has relatively clean water but not sure it's good for human consumption.
However for a 12 year old to pick water from this hole and drink it without shame is quite worrying. This is Kampala; a city where the kids that go to school are supposed to be 'sharper' than all of the others.  I was equally surprised; I must say. My thoughts are our education should have addressed things like these at an early age. I remember learning that I always had to drink boiled water at the age of 9. I knew what the dangers of drinking un-boiled water were and I dreaded falling sick especially of Typhoid.
Of what good is our education system if a 12 year old girl is not afraid to stoop at a sewer hole and pick water into a bottle and drink it? What is she learning at school if she does not know that what she is doing is wrong?
Towards the end of January 2012; Teachers in Uganda threatened to resume their last year's sit down strike. This was just a few days to the beginning of the 2012 Academic year. They were doing this because they were asking the government to respond to their request for a 100% salary increment.  A Member of Parliament was in support of the same. Joseph Sewungu, the MP for Kalungu West, said  that teachers are not ready to accept the 15% increment on salaries as proposed by the government. He went on to say that such an increase is "peanuts" since many teachers only earn between 200,000/= and 300,000 Ugandan shillings ($85-95 US dollars) per month.
Their basis of argument was the inflation. And true to that , a kilogram of sugar beginning  last year cost 1,500/- today it costs 2,500/= . Somewhere last year after the elections were held in February; sugar was been rationed in the shops. It's price had more than doubled. At one point in time, the Uganda shilling was very weak. A dollar cost about 2,900/=UGS. The teachers couldn't take it any longer; said enough was enough. They decided to sit down and ask for 100% salary increment which was obviously justified.
I'm a daughter of two teachers and never in my life have I heard them not complain about how little they are paid. They actually do not believe that I could earn what I do. My first salary was more than what my Father as a teacher had ever earned in his entire 25-year career. He has never as a teacher received 500,000/= UGS[ 204 USD] as a net salary till he's retired now. My mother on the other hand has been lucky because throughout her teaching career; she's  been the Headmistress. That means she was entitled to more than what everyone else in a school got paid. And not just the pay from the government but also allowances from the schools.. I have come to know that the bigger the school, the more money there is thus the more teacher's allowance that they get to take home.
They have child allowances, housing allowances, and the famous PTA allowance – [Parents & Teachers Association] Parents and Teachers come together and agree to supplement the salaries from the government and at the end of the month over and above the government salary; teachers are given a certain amount of money to take home. These are mechanisms that schools have come up with in order to boost the teachers input in a school. The parents know that if the teachers are not well catered for, their children's education which obviously shapes their future is at stake.
Therefore Uganda is not an exception. It is among the very many countries worldwide that have in the last 12 months shown that they are disgruntled with the Education System. In Chile and Colombia last year were protests against educational injustice. The protests were supported by teachers and Unions.
In Europe: mainly UK and Spain, students took to the streets to protest the rising of the cost of education. I do not see that happening in Uganda in a long time considering that there is only one Teachers Union in Uganda. It is actually one of the very few Unions I know of in the country. But it has failed to achieve any of its objectives every time that it has come out.
During the last major strike in July 2011, it's members were treated badly, beaten up and some sent to prison for showing up on the streets and defending their rights. It was then that they gave the government an ultimatum of November 1st 2011 to have their demands met but as at now, government has not yet responded. Ironically during the last State of the Nation Address by the President an announcement was made. There would be no salary increments for any civil servants this financial year. This is a blow to the teachers.
I wait to see what their next move will be. If the Trade Union or the teachers' themselves will rise up to fight for what they deserve. But should our children suffer because of the government's inefficiency?
Tags: education, Member of Parliament, Parent-Teacher Association, Salary, State of the Nation Address, Teachers Union, Trade Union, Uganda