Bamboo no longer just for Pandas!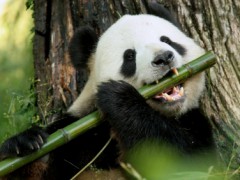 In October 2012, the International Monetary Fund (IMF) published the World Economic Outlook (WEO), a forecast for more than 180 countries based on macroeconomic indicators such as gross domestic product (GDP), inflation and fiscal balance.
Ghana's 2012 GDP of +8.18% has it listed as one of the top 20 fastest growing economies in the world, and the fastest in Sub-Saharan Africa.  Such fast paced growth generally comes at the high price of depleted resources and sustainability, not to mention the challenge of ensuring equal distribution of economic benefits to the people of Ghana. But the humble bamboo may well prove to be the balancing rod that enables Ghanaians to walk the tightrope of inclusive economic growth.
If you ask older people in Ghana to describe the landscape of their youth, many will recall a super-abundance of forests with some ancient trees more than a hundred years old. But today Ghana's forests are quickly disappearing. Despite the discovery of huge oil reserves, the Rain Forest Alliance still says that 75 percent of Ghana's energy needs are continuing to be met with wood fuel (firewood and charcoal) or even through liquefied petroleum gas (LPG).  The bulk of this supply comes from areas such as Wenchi and Afram Plains which are just a few of the country's transition and savannah zones.
The Food and Agriculture Organization of the United Nations (FAO) found that in 2010 21.7% of land in Ghana (equivalent to 4,940,000 hectares) was covered by forest. Of this, 8% (395,000 hectares) is classified as highly bio-diverse and carbon-dense primary forest while 260,000 hectares are plantations. Between 2005 and 2010, the rate of deforestation was estimated at 2.19% per annum; the sixth highest deforestation rate globally for that period (FAO, 2010). Ghana's tropical forest area has now shrunk to just 25 percent of its original size.
So how does a country like Ghana attempt the delicate balance of growth, sustainability, and welfare for its citizens?  Bamboo may be Ghana's savior. For many of us around the world bamboo conjures up images of cute fuzzy pandas from Asia or more recently Eco-friendly materials used in home manufacturing in America. But there's so much more to it.
First, bamboo, which is often mistaken as a tree, is in fact a grass! Second, bamboo grows naturally across Africa, which makes it an innovative alternative to using trees as firewood. Bamboo charcoal is said to burn slower and produce less smoke, thus emitting less pollution than traditional wood charcoal and firewood.
Thirdly, and most importantly, bamboo continues to grow even after being harvested. Specifically the Perfect Biomass Grass Bamboo (PBGB) variety is one of the fastest growing plants in the world and grows abundantly in Ghana.  Bamboo can also be used for building shelters and roads, for production of textiles for clothing and as food for people and animals.  All this means excellent income generation opportunities with the farming, harvesting and selling of a plant that previously grew wild.
In a project funded by the European Union and Common Fund for Commodities, the International Network for Bamboo and Rattan (INBAR) is working in Ethiopia and Ghana to reduce deforestation and land degradation by using bamboo as a highly-renewable alternative for firewood and charcoal production.  In 1987, INBAR, an intergovernmental organization, was created to promote sustainable development with bamboo and rattan to improve the livelihoods of the poor.
Involvement of INBAR and similar organization has helped train and increase the skills of Ghanaians through China-based partnerships in the area of bamboo cultivation, plantation management and bamboo production technology.  This know-how supports and impacts the reduction of deforestation. And the project has helped improve local economies through the funding of small enterprises that produce the charcoal as well as energy-saving stoves. INBAR's involvement is helping Ghana, but more importantly the harnessing of the bamboo's many talents is also helping Ghana. Use of energy-saving stoves and production of bamboo charcoal are estimated to save about 3 kg of wood per day, which in aggregate should lead to savings of up to 500,000 tons of wood a year.
China is a global leader in the production and use of bamboo. As of 2012 the sector was worth $1 billion dollars and employs more than 60,000 people. The hope is that the partnerships that have been formed with China will infuse the Ghanaian market with the know-how, skills and ability to become, not just a consumer of bamboo products, but more importantly, an exporter of bamboo goods.
Growth and sustainability are said to have an inverse relationship so that the existence of one entails the loss of the other. But innovation, technology and partnerships are showing that this does not always have to be the case.  Ghana is taking the necessary steps to pioneer new technologies and persuade its citizens that growth and sustainability can be more than just buzz words or challenges – they can indeed be a real strategic road-map towards inclusive economic growth.
Tags: #charcoal, Accra, Africa, bamboo, bamboocharcoal, China, developing countries, economic growth, ENVIRONMENT, farmers, farmland, firewood, forests, Fuel, ghana, Good Governance, inclusivegrowth, land, Natural Resources, Oil, oilreserves, westernregion, wood fuel