Bhutan: Democracy advances but old fears still persist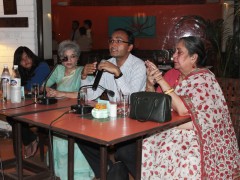 It's not everyday that you can listen to a dialogue that flits from geopolitics and tourism to dynasties and culture; from refugees and handicrafts to a World Bank-funded road that leaves you in the middle of a wildlife sanctuary. It was precisely such a discussion, however, CultureSPEAK – Window Bhutan – that took place in New Delhi, India, last week in the heart of the city's British-built tree-lined avenues. Indians are so tuned to hearing either their own praises or identify themselves so closely with the West that they often forget their South Asian identity.
The discussion revolved around Bhutan's much-talked about Gross National Happiness (GNH); the decision to keep 60 per cent of the country's area forested and its realization under the watchful eyes of warring India and China; together with issues of the impact wrought by tourism and the opening-up of the economy.
Organised by No Man's Land, a recently-formed, all-women group from South Asia, this women's initiative is hard at work building bridges between the similar and dissimilar in the eclectic South Asian landscape. They have chosen to do it through design, dialogue and ideas from South Asia with additional flavours from Myanmar and the Tibetan Autonomous Region.
Even though a distinct and formal South Asian identity exists through SAARC – the South Asian Association for Regional Cooperation, it has not made much headway due to disagreement and bickering between its members. So this effort by No Man's Land to bridge the gap between the people of the region by holding dialogue and exhibitions in Delhi was like a breath of fresh air.
Dil Bahadur Rahut, Professor of Economics at the South Asian University, New Delhi, told anecdotes about the Himalayan nation's steps to progress after its emergence from isolation. "Nehru rode on the back of a yak during his first visit to Bhutan after which he decided to build a road… India has been a major donor and it was with India's help that five-year plans were introduced to Bhutan,"  as Rahut put it.
Talking about the strong Indian influence, he added that the Indian currency is in use even though a Bhutanese currency was introduced in 1970. But not only that: almost half the Bhutanese people can converse in Hindi.
Professor Rahut went on to explain that despite the King of Bhutan's close scrutiny of tourism issues, tourism is having a harmful impact on the nation's cultural landscape. "We had just 33 tour operators in 1993 but since we've  liberalised tourism we now have over 600. The country had 46,000 tourists last year but the government is looking to receive 100,000 over the next five years. Our first batch of American tourists arrived in 1974." Rahut said.
Opening up the nation to the outside world has had its benefits. The nation's GDP has gone up substantially and so has life expectancy.
Rahut further explained that ever since Bhutan came out of its self-imposed isolation, it has been close to India and has benefited a lot from that relationship. Geography also favours relations with India and makes it  easier to travel to India than to China.
Bhutanese development entrepreneur Manju Wakhley gave an interesting twist to the Bhutan-China-India relations debate when she said: "Relations between India and Bhutan have been strong also because of the personal relationship between the Gandhi family and the royal family of Bhutan. With China it is a nice diplomatic relationship but with India it is a warm friendship. Sometimes we fear that a change of government in India will impact this relationship."
Laila Tyabji, chairperson  and founder member of Dastkar, a society working with craftsmen in India, spoke about the link between crafts and tourism. She said that Bhutan can learn a lot from India's experiences with tourism because both countries have similar standardized  products. She also added that these living crafts and  craftsmen  have skill sets that no other countries can match. Since no design development  is being done for such crafts, it is crucial that  investments be made, even if these traditional skills might well be 5,000 years old.
She gave an example: "Bhutan created a new crafts bazaar with 80 stalls but all the shops had the same merchandise. The first shops sell their crafts but the others fall by the wayside. For tourists too there is not that much choice." Tyabji suggested that students from premier design institutes should interact with artisans to further the evolution of the region's crafts.
Manju Wakhley felt that even though the nation might be grappling with the changes in the culture and environment, a lot of these have happened only around Thimpu. She added that inter-ethnic marriages between Nepalis and Bhutanese are now much more common than they were 20 years back, but the problem of refugees still remains an issue which governments are not keen to discuss because of the sensitivities involved.
The discussion moderated by the noted editor Malvika (Mala) Singh, the publisher of  Seminar, also threw up an interesting insight into how regional issues in the region weigh on Bhutan. The tribulations which Nepal faced in its quest for democracy are one such fear while Tibet is another instance that scares the Himalayan country. At the same time, the advent of democracy has resulted in a prolific media industry which encompasses both radio and print. "There has been an outburst of newspapers including those doing investigative journalism," concluded Wakhley.
In a region where India dominates discourse–whether political, cultural, economic or geopolitical–CultureSPEAK-Window Bhutan makes a refreshing change. If the creative women at No Man's Land pull off their vision of bridging the regional gap through art, design and dialogue, it could lead to a stronger South Asian identity – though hoping for a European Union kind of understanding might be a tall order at the present time.
Despite the differences, road and rail connectivity has been established between Pakistan and India; and there are rail links between Bangladesh and India as well as a ferry service between Sri Lanka and India. So hopes for better integration are very much alive.
(Photograph under Creative Commons. Photo credit: Rahul Kumar)
Tags: BHUTAN, China, democracy, india, nepal, South Asia, Tibet, Tourism