Bittersweet: Economic Prosperity in Russia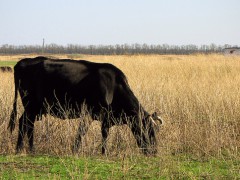 Vasily Melnichenko, a farmer from a village close to Yekaterinburg, became famous after speaking during the Moscow Economic Forum. "We joined the WTO, but we are certainly not competitive" Melnichenko said. "We want to develop a clear economic and social program because the level of idiocy has, generally speaking, already exceeded the living standards [in the country]."
He sounds like an avowed critic of the government, but in truth he is only a simple farmer with first-hand experience of reviving Russia's declining agriculture sector. It seems like he is the only one able to tell the truth. In another speech, he said: "When the MPs are honestly outraged to hear of salaries of 160,000 rubles [5,000 USD] per month – it is a small salary, and they're right. We'd like to get a bit more." His audience applauded. Every speech he makes is a success on YouTube. For the first time, a farmer, a part of the most passive sector of Russian society, rises to express his dissatisfaction with the current economy and with corruption.
Rural self-administration
In 1989 Vasily was invited [ru] to take charge of the state farm in the Urals. 276 employees worked in the state farm's woodworking and furniture shops, mill, bakery, pastry shop and pig farm. Vasily privatized the farm in 1992 and successfully built a self-reliant community. In 1998 local racketeers set his farm on fire because Vasily refused to pay them for protection. He believes that local administration was involved in this matter as well. It was the quick rise and fall of a successful farm. The village is still trying to recover after these events more than 10 years ago, but Vasily remains optimistic.
Russia spent 19 years trying to join the WTO. Although it successfully joined in 2012, it is still difficult to see the benefits. Some experts claim [ru] that Russian GDP will grow by 3% and salaries will increase as a result of WTO membership. In contrast, farmers and small entrepreneurs worry that the WTO will not improve their economic situation, but will potentially ruin their businesses. Even though Melnichenko's farm brings in about 65 million rubles annually, he believes that "there is no support for rural businesses today."
It is still difficult for businesses like his to get a bank loan or a favorable taxation plan. Farmers from other countries enjoy strong governmental support and subsidies, whereas Russian rural entrepreneurs have to be self-sufficient. "The state didn't forget about us" says Melnichenko. "It fined us occasionally. It wouldn't let you forget about it. The same way the TV doesn't let you forget about the existence of the president and the prime minister."
Supporting the entrepreneurial spirit
Nikolay Sluchevsky is a descendant of Petr Stolypin, a renowned Russian Prime Minister from the early twentieth century who introduced various agrarian reforms. Nikolay decided [ru] to come to Russia, hoping to put his grandfather's ideas into practice. He believes that changes come from the bottom up, and that farmers should get some assistance. Working towards this goal, he even established a highly-valued consulting service for farmers facing challenges in just making their day-to-day routines work.
"[Russia] has a huge, enormous potential in agriculture! There are 6.5 million farmers in America and only 305,000 in Russia. At the same time, 100 million hectares of agricultural land isn't developed. There are millions of dollars [waiting to be reaped] in profit!" says Nikolay.
It is still too early to say whether such initiatives will improve the quality of farming in Russia. And it is also too early to decide whether Russian accession to the WTO will bring any positive changes. So far, Russian farmers are primarily concerned with their challenges, instead of with their Opportunities. They look primarily at their pitfalls and difficulties. Looking at large foreign agribusinesses, many feel that the only way they can stay competitive is through even greater government support.
Tags: disadvantages of globalization, economy, farming, globalization, Russia, Vasily Melnichenko, WTO