Breastfeeding vs. Breadwinning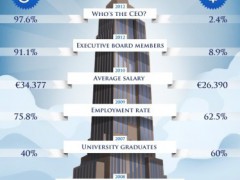 Decades into the fight for equality in the workplace, policies for women keep failing. A drawing released this year by the European Parliament shows a bleak picture of so-called equality: there are more women in the EU holding university degrees than men, yet men enjoy a higher employment rate and a higher average salary. Birthrates remain at their usual low all over Europe, and our aging population is putting our welfare systems under huge stress.
Middle class women are putting off child rearing – temporarily or permanently – as they seek to build a career and, eventually, to become men's equals at the workplace. If they decide to have children after all, ignoring the cost of opportunity in terms of career progress, they will most likely face stagnation at the workplace. One reason is that family policies encourage women to stay home and take care of their children, while disregarding the efforts they have put in building a career. The woman is still seen as the breastfeeder, not the breadwinner.
A set of ideal policies for more gender equality would allow women and men to split their parental leave how they decide to, would provide better financial incentives for parents to choose to have children and would provide for reliable childcare for parents who cannot afford a private one.
In a country like Romania, faced with dire demographic prospects, you'd imagine supporting women to have both children and a career is a top priority. As a matter of fact, it is not. Each newborn receives about 50 EUR/ month, for two years. Afterwards, the child receives 10 (ten!) EUR/ month, until he/she turns eighteen. There are no fiscal incentives for new parents. The mother is entitled to a maximum of 4 months maternity leave, split equally before and after the child's birth. During this time, the employer pays her normal wage and is not allowed to fire her. In addition, the mother or father can opt for quitting their job and staying home with the baby, for a maximum of 20 months, after the mother's initial maternity leave is over. During this time, the government pays the non-employed parent a monthly allowance worth 85% of his/her average salary during employment. Parents can opt for staying home with their children for one year (in this case, the cap for the allowance is higher, approx. 800 EUR/ month) or for two years (in this case, the cap is halved to approx. 400 EUR/ month). This policy, meant to save money in times of budgetary austerity, can also be seen as a means to encourage early reinsertion in the workplace. However, the public nursery system is horribly underdeveloped. In 2007 Romania had 40 public nurseries for its entire population of 21 million people. In the meantime, the situation did not improve much. To top it up, costs in a private nursery can go up to 400 EUR/ month.
In addition, few employers practice flexi-time, or are incentivized by public policies to adopt more flexible working arrangements for parents who want to have both a career and a decent family life.
The difficulty in designing and implementing social and family policy that can truly breed equality in the workplace is not unique to my home country, or to Eastern Europe, as a matter of fact. Few countries, the Nordic ones being a notable exception, have succeeded in creating progressive social policies for men, women and children.
A recent op-ed in Washington Post, by professor Dana Becker, busts the myths behind "women's stress" in the US and shows that American policy-makers need to address the causes of women's stress and not their effects (i.e. stop prescribing veggies and Omega 3, build affordable nurseries instead!). I think her conclusion fits the topic of "women's work" perfectly, irrespective what region of the world we are looking at:  "Work and family aren't having a conflict; it's work and workplace policies, work and limited child-care options that are at odds. The conflict is between family and work as king and fit only for kings — that is, work designed for men with wives at home."
—————–
Gender equality and family policy has always been an all time favourite for me. This article is based on a lengthier one I co-authored with Zoe Robaey for the student magazine Schlossplatz3, of the Hertie School of Governance in Berlin.
Tags: birthrates, Central and Eastern Europe, demographics, equality at the workplace, family policy, gender equality, maternity leave, romania, women's stress, work life balance