Brisbane's Urban Living – "The Urban Garden"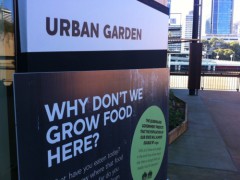 As part of our  coverage on "The New City" we asked our bloggers for some pictures from their cities. Are there any places in their cities that are prime examples for sustainable urban living? But it could also be a negative example in order to show how a city should not look like.
Right next to the State Library of Queensland, in its Capital city Brisbane (Australia), an exercise in urban sustainable living is underway! The Urban Garden is about knowing where the food we eat comes from, sharing the agricultural experiences and using the spaces in our city better.
Tags: Brisbane, green cities, sustainability, urban living, urbanization