Cambodia: The Two Sides of Intra-Asian Migration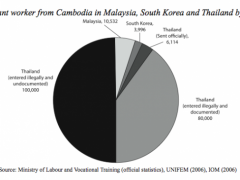 Migration is a worldwide phenomenon from which Cambodia is no exception. After a long decade of isolation due to genocide and political conflict, this country is now integrated with regional blocs or bodies—like ASEAN and WTO—and has adopted the free market system which is meant to respect the free movement of people.
Endebtedness and a lack of viable employment opportunities are commonly identified as the push factors causing many Cambodians to migrate to neighboring countries including Thailand, Malaysia, and South Korea. The pull factors such as the high demand for less skilled workers in 3D (dangerous, demanding, dirty) jobs in these countries converge with the prospect of high paid employment and a better life, and the existence of established recruitment networks. As the 2010 CARAM ASIA report on "Remittances: Impact on Migrant Workers' Quality of Life," states, it is estimated that between 1998 and the end of 2007 there were about 180,000 Cambodians working in Thailand, while a total of 10,532 Cambodian migrants were in Malaysia and 3,996 Cambodians had gone to South Korea. The following shows the figures as a chart:
The complex economic and political system results in both opportunities and challenges for migrants who may encounter either economic prosperity or hardship, social integration or disintegration (in terms of discrimination or racism, for example) and either experience respect for human rights or their violation.
The importance of remittances in contributing to the economies of the receiver countries has been well recognized. The burden of socio-economic development reliant on development aid has been shifted or at least reduced by the earnings contributed by poor migrant communities working hard, in some cases under harsh conditions, to send funds back home to their struggling families and communities. According to a World Bank report, in 2007 Cambodia received approximately USD 322 million of inward remittance flows. It has been shown that remittances have tripled within 10 years and now represent more than 4.1 percent of Cambodia's GDP.
Yet the positive effects of remittances from abroad should not make us lose sight of their darker downside. The following case is a good example and also illustrates the role played  by intra-Asian migration and the role of blogosphere in assisting justice and the protection of migrants rights.
An investigation on the reported death of a Cambodian domestic worker in Malaysia was initiated by the Cambodian Embassy in Malaysia in cooperation with the police, according to an article by the Phnom Penh Post.
The aunt of the domestic worker was informed by the labor recruitment firm APTSE & C Cambodia Resource Co Ltd that her 19-year-old niece had died from pneumonia. However, the pre-departure medical test in Cambodia in September last year had shown her to be in the very best of health.
It's now alleged that she could have been murdered following exposure on a news aggregation website, Khmerization, which published and circulated an email from an anonymous person who reported that a maid in Malaysia was being abused by her employer.
The case was picked up by human rights groups and politicians who appealed for a proper investigation. The anonymous sender of the letter wrote to Khmerization:
"We came across a blog on your website (khmerization.blogspot.com) regarding "Malaysia Embassy saved Cambodian maid alerted by Khmerization's article", posted on 23 March 2011. We would like to bring your attention to the recent death of a Cambodia maid where we suspect the actual cause of death is due to the constant physical and mental torture inflicted on her by her employer.

According to people in the local neighborhood, they have constantly witnessed the deceased being beaten up and abused and she had many times sought help from other maids in the neighborhood. One day before her death, she passed down a message saying that if she really were to pass away without any valid reason, would we please inform her uncle back in Cambodia".
Khmerization had also once before successfully convinced the authorities to investigate and assist in the case of another Cambodian maid who was allegedly abused by her employer in Malaysia. Apart from publishing an article about the abuse, Khmerization also circulated an email encouraging its readers towrite to embassy officials in Malaysia.
According to the 2011 report prepared jointly by CARAM Asia, CARAM Cambodia and Tenaganita on "Reality Check: Rights and Legislation for Migrant Domestic Workers Across Asia," there are over 40,000 Cambodian migrant domestic workers in Malaysia of which women account for 51.7%. The report outlines some common violations experienced by domestic workers:
Working conditions differ from the contract signed between migrant domestic workers and their agents in Cambodia including lower wages and debt bondage not known to workers prior to departure.
Detention at recruitment agencies' training center
Underage girls sent to work with falsified documentations
No payment of wages
Irregular payment (migrant domestic workers are only paid at the end of their contract)
Long working hours
On call 24 hours a day
Excessive duties and tasks
No days off
No privacy
Verbal abuse
Sexual abuse
Physical abuse
Confiscation of personal documents
This case shows the two sides of intra-Asian migration.  Although remittances in some cases are essential for the survival of the migrants' home economies, standards for their decent treatment in the host countries are equally important. As the Dalai Lama proclaimed in his speech to the 2008 United Nations World Conference on Human Rights, "No matter what country or continent we come from we are all basically the same human being. We have the same common human needs and concerns."
Tags: Civil Society, developing countries, globalization, human rights, migration, remittances