Climate Change: the tax Pakistan and the rest of the world must pay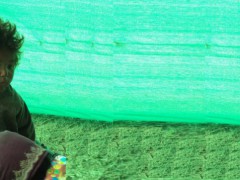 As I began writing this post from the security of my home, I caught a glimpse of the television from the corner of my eye. The news channel showed images of thousands of Pakistani people from across the country protesting against excessive taxation and demanding an end to corruption. Some even sat right in front of the parliament house bringing life in the Capital at a standstill while others called for civil disobedience by all the citizens, through refusal to pay government taxes igniting the conflict with the governance even more. People are angry and sides are being taken and fingers are being pointed. Politicized and complicated, the issue seems irresolvable to some who have lost hope.
In lieu of this I can't help but wonder, perhaps neither side is wrong or even right for that matter but how we're all at fault for this economic pressure we're drowning ourselves in by ignoring the root cause of all our troubles: climate change.
The global phenomenon of climate change has been predominantly impacting the affairs of the region however it's received minimal to no attention as it's hastily considered an issue of the future and not an imminent threat. However, believe it or not, the fact of the matter remains that Pakistan with its millions of populace has been falling victim to agricultural loss, destruction of infrastructure, economic instability, violence and loss of lives at an alarming rate more recently than ever before and all of this has a huge toll on the country's prosperity and that of yours and mine.
But what does climate change have to do with your frustration as a Pakistani citizen?
Well everything.
In the past three years alone repeated floods have inflicted serious damage on Pakistan's economy, halving its potential economic growth and moreover creating the burden of billions of dollars for post disaster efforts as stated by the World Bank. A total of $17 billion was lost just in the years 2010, 2011 and 2012 due to a lack of preemptive measures for the forewarned recurring floods. If initial high-cost climate change adaptation measures were implemented nationally to counter the calamity as opposed to low-cost mitigation efforts the outcome could have been very different both financially and in terms of the number of lives that could have been saved.
However it doesn't end there. Power shortages throughout the nation have left millions of Pakistanis in the state of aggravation since many years and is also causing an impediment to economic growth in the land with loadshedding in the industrial sector costing the country over two percent of the GDP, over US$ 1 billion of export earnings and potential displacement of more than 400,000 workers as shown by research on the "Economic Cost of Power Outages". According to a report published by the International Energy Agency (IEA, 2012) 38% of people in Pakistan remain without access to electricity. In light of this alternate sources of energy can provide the opportunity needed to meet this challenge. Solar energy street light projects by the government in the city of Gujranawala are worth mentioning. However, in order to truly meet this obstacle, greater commitment must be given. Wind energy, hydropower, biogas, geo-thermal and tidal/wave energy projects are currently being carried out successfully across the country on a small scale but it is only through public support and campaigning that we can move towards effectively running these projects on a larger scale to overcome the national energy crisis.
Besides creating an economic burden, the implications of climate change are also significantly holding back foreign investment and growth as consequences of economic pressures and poverty links to social unrest, violence and even terrorism. In a report by the Norwegian Peacebuilding Resource Centre it was found that specifically for a country like Pakistan and a few others, the casual link between poverty and radicalization into violent extremism is strong as militant groups continue to prey on poverty-stricken young men through recruiting in those areas and supplying social services to them in return of support.
In times like these it's vital for us to prioritize the root cause of our social and economic instability and to re-evaluate our internal counter active initiatives as a country in order to strengthen our survival and move towards the road of development and greater prosperity. The relevance of the climate crisis to the crisis we face every day is high which is why in order to tackle the issues that are featured on our news channels we must tackle climate change.
However not many are willing to do that and the cost of that has already affected us deeply in terms of the loss of finances but more tragically, through the loss of lives of thousands of men, women and children. More than 30 people have died just this past day due to monsoon rain across the country which further shows how detrimental this issue is for everyone living in the climate risk zone. The monetary price of nature is too expensive for us to misuse as I established in my open solution for the Global Economic Symposium. We simply cannot afford to continue our ways.
So pay the tax. The tax nobody asked for, the tax you didn't already offer to pay, the tax that is owed to this planet for the damage we have been doing to it and for our negligence in sustaining it. Through investing in greener initiatives, through supporting the environmental campaign and through combating climate change and making it your priority we all can work towards making the struggle for a flourishing Pakistan easier.
Tags: CLIMATE CHANGE, Disaster, economy, natural disaster, pakistan, Resilience, Terrorism, UNFCCC, world bank