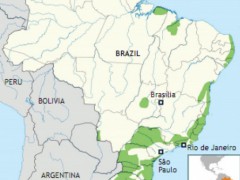 The struggle for land causes bloodshed in Brazil. Grassroots movements may offer a solution
On May 24th 2011, José Cláudio Ribeiro da Silva, a grassroots environmental activist in the Amazonian state of Pará, was killed by two gunmen while riding home on a motorcycle with his wife. His fate is not uncommon in rural Brazil; over 1,000 rural peasants and activists have been killed in the Amazon in the last 20 years. In 2008, the Pastoral Land Commission, a Brazilian human rights organisation, gave a list of 1,800 names of people who have received credible death threats in recent years.
This violence emerges from one of the most contentious issues within Brazilian society: land reform. Brazil is a country where 1% of the population owns roughly half of the arable land. Between 2003 and 2007, state support for the rural elite was seven times higher than that offered to family farmers, even though the latter represented 87% of the work force. Large landowners and agribusiness corporations are responsible for the cutting down of trees to create vast plantations, industrial farms, and cattle ranches. These agribusinesses use vast amounts of Genetically Modified Organisms and pesticides to grow mono-crops primarily for export, such as soy, sugar and coffee.
From The Ground Up
A key group in this struggle is the Landless Workers' Movement: Movimento dos Trabalhadores Rurais Sem Terra (MST).  Its 1.6 million members consist mainly of the rural poor, whose lack of education and colour of their skin often place them within the most marginalised strata of Brazilian society. They seek downward land redistribution, citing a passage in the 1988 Constitution which states that land not being used for social good may be acquired by the government and passed on.
They operate through large-scale occupation of ranches and farms, setting up camp and remaining there until they acquire the property. They are said to have redistributed 35 million acres of land. They are committed to ethical and sustainable land use, building small-scale family farms which grow natural food for domestic consumption. They have also set up thousands of schools and health clinics, as well as a university and a natural medicine factory. For the people involved, the importance of being in groups such as the MST cannot be underestimated.
Organising For Rights
Land reform remained one of the less progressive policies of the former president, Luiz Inácio Lula da Silva. Traditionally seen as an ally of those who sought land reform, Lula is now perceived by the MST to have taken sides with the large landowners and agribusinesses by helping to considerably expand their practices throughout Brazil. His successor Dilma is seen to have inherited this mantle also.
Other groups do not provide the structural reform necessary to combat the extreme inequality, exclusion, division and racism that is present in Brazilian society. Brazil's economic successes have helped to turn it into one of the world's most powerful economies, but soaring GDP has not solved the country's social problems. Instead, the MST and others would argue that it has merely benefited the elite. Grassroots movements must continue to push for environmentally and socially sustainable land use, forest protection, and dignity and security for the poorest and most marginalised Brazilians.
Benjamin Parkin is a member of Global21, a student network of international affairs magazines and a partner of FutureChallenges. A longer version of this article was first published in the Oxonian Globalist.
Tags: brazil, land rights