Democracy and the Environment: The Mutant Effects.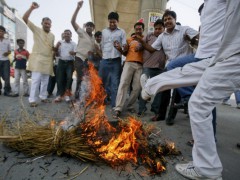 Ecological issues are a matter of survival for almost all developing countries where we have communities that are disadvantaged in all facets of life. In India lately, I have seen protest marches staged against infrastructure projects and what is generally considered as "development".
The past four years in India have seen repeated protests and clashes between farmers and police on the outskirts of Noida, a suburb of Delhi. The farmers there are opposing the proposed plan for a highway and urban development because they will not be adequately compensated for their losses and they fear future environmental hazards that might be caused by the effects such projects have on the ecosystem of the area. Such protests have also taken place in rural areas of Sierra Leone where new mineral mining companies are plying their trade. Neither the landless nor those with farmlands, for instance, receive any compensation even though their livelihoods are destroyed by these multinational conglomerates.
Today, with education and public awareness, protests are happening in many places around the globe. Practically all infrastructure projects and new industrial schemes are under attack from communities who fear the loss of their livelihoods.
The Forest Act requires that village assemblies in tribal areas must give their written consent to a project before it is cleared. Public hearings should be held during the environmental impact assessment and are meant to provide a platform for people to voice their concerns.  In most of these cases, however, the politicians who should be taking a lead in ensuring that a better deal is reached will be the very ones who undermine these processes. You will find that the concerns raised by local people in the community are swept aside as projects are rammed through in the name of industrial development for the country. Invariably such practices need to stop.
The environmental degradation of the earth is a cause for deep concern. It is obvious that our planet cannot sustain current energy intensive growth models. Resources are limited and the risks that go with energy production are enormous. It important that humanity finds new ways and means to use less energy, and produce more efficient energy for human consumption. We need to continue to invent ways to drastically reduce energy consumption in order to have a healthier and safer environment.
Energy efficiency is one of the solutions but it practically useless without energy sufficiency. The Western world which is seen as a pioneer of the green energy revolution needs to find ways to reinvent growth with fossil fuels and growth within to create balance in the ecosystem. The issue that we should be discussing is not fixing the problems of growth, but fixing growth itself. When the land is mined, trees are cut down, water sources dried up or grazing and farmlands are lost, this affects the environment and ecosystem negatively and can have devastating consequences on the communities concerned.
We cannot dispute the fact that development projects use local resources – minerals, water and land – which in turn brings economic value to the country aiding investment from both local and foreign companies. But how can there be a balance in ensuring that the development paradigm we know today does not totally destroy our environment?
Unfortunately the western world, China and North America have stuck to their destructive economic models for decades even though it has long been evident that neither can they go on like this forever, nor can the whole world follow suit. The West needs to lead and change its way of life. Multilateral policy-making has utterly failed to stop climate change.
The UNFCCC and its Kyoto Protocol are worthless, and climate change impacts most painfully on the poor in developing nations. The millions of green mutinies we see today globally are testing our democracy. It is evident that the need for new and vital industrial and infrastructure projects will have to be balanced with growing dissent against them. The people's voice must be heard and development cannot take place without it being heard.
So far developing countries have failed to reduce greenhouse gas emissions in spite of all the investment poured into reducing the CO2 footprint. Progress has been made in some areas and we now have more fuel efficient cars. Yet people still continue to drive long distances and have more than one car, which in turn also causes emissions to grow.
We need to teach people new environmental ethics and find solutions within economic growth models like buying organic food, driving hybrid cars and installing solar panels on our roofs. Yet the problem with such moves is that they are very expensive and the poor cannot afford them. The middle class in India, South Africa and Namibia might be following this model but much more needs to be done.
The challenges we also face involve more than just choosing less destructive models of energy consumption. They also mean that we should start teaching people about techno-fix solutions to clean up pollution even as we continue to emit more.
Our task now is to provide the benefits of development to a vast number of people, reinventing growth that is both affordable and sustainable. The only driver for change is democracy and more democracy. It is only when the powerful nations in the world accept the limits on their growth that the world will choose that new pathways to progress. It can be done and should be done.
We must understand that our future lies in participating in this environmentalism agenda and in the nurturing of a democratic society that understands the environment agenda and makes it a priority in national policy. Such a movement will force us to seek new answers to our old environmental problems. And it starts with you and me.
Tags: CLIMATE CHANGE, Developing country, ENVIRONMENT, Environmentalism, Kyoto Protocol, Sierra Leone