Democratic transition in Slovakia – An Environmental Game-Changer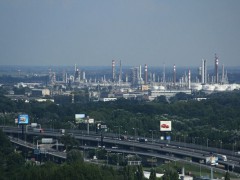 In her lead article Ulrike Reinhard asks wherever "democracies are dressing climate challenge better than non-democracies?"
Let's look at the case of Slovakia, a country that left the non-democratic socialist club in 1989 and after some time moved towards the European Union.
Even in limiting the fight against climate change to the reduction of CO2 emissions, we can see that – in contrast to Burnell's examples of transformation mentioned in Reinhard's article – the Slovak reduction could be called a success story in terms of overall CO2 production, CO2 per capita or CO2 in relation to GDP. Emissions were initially reduced after the collapse of the socialist military-oriented heavy metal and chemical industries, but the falling trend also continued after they were gone.
Looking at authoritarian Belarus or China, we see the opposite trends of emmissions increasing. To be fair, the same happens in democratic India, not to mention the USA which for a long time completely ignored CO2 emissions.
Czechoslovakia's recent authoritarian history
It also seems to me a bit strange to separate climate challenges from general environmental efforts. In terms of environmental effects, it would be hard to name communist Czechoslovakia as an environmentally friendly state.
For instance, the problem of total destruction of the environment in the vicinity of aluminum plants was fixed not by filtering industrial waste but by building chimneys twice as high in order to make pollutants less concentrated. In other words, the solution led to an enlargement of the 'death valley.'
It was also symbolic that Czechoslovakia signed the 1985 Vienna Convention on the protection of the ozone layer only after significant political change had taken place.
Environmental damage was not solely due to our own activities: just after the Soviet army left, we found that in their military zones it had shown the most blatant disregard for the safe storage of motor fuels, oils and other chemicals.
Similar to the situation in present-day China, those trying to raise environmental awareness risked detention or losing their jobs.
In 1987 an unofficial environmental paper "Bratislava nahlas" ("Bratislava loudly") spread like wildfire  – and quickly became a political issue even though it didn't intend to be political.
Present-day Slovakia
The new conditions pertaining in Slovakia have dramatically changed the environmental situation for the better. Rivers have become blue, the air more clean, and all those days with closed windows to keep out factory pollution are now history. Of course, acceptance of stricter European standards has also played as important a role as the structural transformations in the economy.
Even so, not everything has improved. Compared to the pre-1989 era, the country is now littered with plastic bags that quickly replaced classic textile ones and with plastic bottles that replaced glass ones. And the efforts of environmental organizations to change laws about deposits on glass bottles were blocked by the lobby of big chain stores.
What has really changed, though, is that people now have a real chance to influence many environmental issues. Public opinion brought about the cancellation of new gold and uranium mining projects and replanning of a new pipeline. Public opinion has also put an end to the first projects for wind power stations in south-west Slovakia based on an old generation of noisy technologies imported from Austria.
The Slovak government has set a target of 14% of energy produced from renewable sources by 2020, which is well below the average EU level of 20%. It also looks as though it's lower than the 15% of the Chinese target, but we should remember that the Chinese use different metrics counting also nuclear plants.
But some of the issues raised by Bratislava Nahlas in 1987 are still very topical – such as the falling numbers of trees and parks in the cities. Recent years have been characterized by rapid building programs wherever possible…
To conclude,  I agree with Burnell that counties in their democratic transition could face other problems that they prioritize over environmental issues. In any case, it would be naive to think that countries whose regime is replaced by a non-democratic one must behave in a different way.
But even though democracy isn't a definite cure for environmental problems, it has certainly brought about significant improvements in Slovakia.
Tags: authoritarianism, democracy, ENVIRONMENT, industry, Slovakia