Ecuador: the morally respectable woman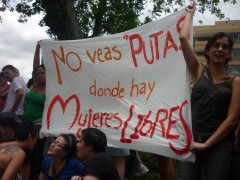 On February the 20th, 2013, a group of young men murdered 20 year old Karina del Pozo, after a party. She was a model for events and fairs, and as many people said, specially on social networks, her line of work was an unmistakable sign of her not taking a morally respectable path. The  same people read her work as an indication that she was involved in prostitution and leading a "bad life" which exposed her to a high risk of death.
Mired in prejudice, people associate modeling with ideas of a sexuality that challenge the moral standards of the country.
The statements made by the suspects to the public prosecutor make such prejudice glaringly obvious: "This is how you kill a little whore", is what one of those said who allegedly strangled her and smashed her head with a rock until she died. Even more shocking was the fact that she knew the men who killed her, they were not strangers. Public opinion believes that such a case is a classic instance of what can happen when women don't take care of themselves but take the "wrong path" leading them into danger.
Comments on social networks included such points as "she didn't take care of her… you find all kinds of things in the streets", "Can you expect anything good of a woman that goes to a place to drink alcohol and take drugs?", "This happened to her because she hung out with drunken men" or "Select your friends more carefully, don't make the same mistake as Karina del Pozo".
Add to this the recent TV spot of the government's campaign to reduce alcohol consumption, and the scenary doesn't change, because this take on the role of women is so strong that it can't be discarded, not even by the state. In the spot, a girl in a miniskirt and a top with a deep clevage is having fun in a disco. She drinks a lot of alcohol and dances with a lot of men, some reject her, some come on to her. Later she stumbles to the bathroom where she throws up while other women look on in disgust. When she leaves the disco, heavily drunk and alone, she gets into a car with two men who tell her they'll take her wherever she wants to go.
The campagne is clear in its message as it tries to address the dangers of exaggerated alcohol consumption, but it also contains another subtext: alcohol consumption makes women become "loose" and turns them into objects of social censure. Also, alcohol makes them easy sexual prey in a country (according to 2012 figures from the Ministery of the Interior) where one in four women has been a victim of sexual violence and where 53.9 percent of women have experienced psychological violence.
There is a deep and pervasive culture of violence and contempt towards women in Ecuador, yet it is a taboo subject that is never discussed because it is not seen as an issue but as a totally normal situation: women must fulfill a certain role, and those who don't fit the moral standard of what's acceptable do not deserve any respect. In the midst of all their achievements in terms of their increasing participation in the labor market and society, violent treatment of women and a strictly sexist attitudes to them are still fixed norms in the country.
Of little relevance here is data like that from the World Bank in 2010 which showed that 54% of women in Ecuador were among the most economically active population, and that this ratio was on the rise. When it comes to the day to day reality, such figures pale: the facts show that deeply rooted moralistic views of women have hardly changed at all.
The conditions in which they work expose prostitutes directly to such violence. Prostitution is rife in Ecuador and yet there are very few public spaces to talk about this reality without entering in the morality game. It's an activity with a lot of physical risk (that could end up in the woman's death) and with a big economic risk, because in many cases they don't get paid. To work with sex is something that societies don't tolerate and try to keep on the margins.
Discrimination comes with the job where women become directly marginalized and looked down on. Why? Because whether out of necessity or desire (this is not the place to go into the motivation) they decide to step out of the imposed roles of what's acceptable, and such a move always comes with a price tag. Such attitudes to prostitution are an extension of the puritan attitude to sex. "I've been alone in life. I'm alone and I think I'll end up alone", says Rubí, a 39 year old  sex worker tellingly told 30 Minutos Plus, a local TV show.
According to figures from ONU Women, there are about 40,000 women in Ecuador working as prostitutes and registered as "sex workers" with the public health service. It is believed that 4,000 of them alone work in Quito, the capital.
Tags: Ecuador, prostitution, women, working women