Educated and Unemployed: The Dilemma of Graduates in Africa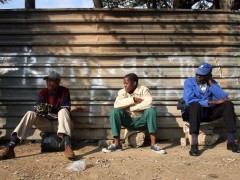 The commodification of Africa's universities and the policies of mass recruitment of new students are alarming given the limited number of institutions to accommodate the mass influx of learners from secondary schools to tertiary institutions and onto the labour market.
With the whole cohorts of graduate students entering the job market, the unexpected precariousness of job opportunities has given rise to relatively divergent viewpoints within government ranks and the world of education at large.
History has made me understand that the term "unemployment" first became significant in the time of the Great Depression in the United States and since then successive governments have taken notice of unemployment rates exporting their understanding across the world from North America to Europe and Africa.
"If the people are unemployed, there is bound to be social unrest in the state and even those who are employed are on constant strike for higher wage to keep up with the steep rise in the cost of living due to the wavering trends presently affecting the world's economy."
Governments in general do not want social unrest so invariably the pressure is on them to create new jobs to match the rising number of graduates from tertiary institutions onto the labour market.
It is natural that they try to find solutions to the problem of unemployment. But at the same time finding the root causes of unemployment and addressing them is also a priority if we are not to have a repeat of the situation for the future generation of university graduates.
Unemployment in Africa is one of the challenges that the continent is currently facing. To stay abreast of the modern economy and the present trend towards globalization, the African economy, like many other economies in the developing world, is on the path of natural development with structural shifts in production towards more skill- and capital-intensive industries.
The pressure to become technologically more advanced together with the effects of increased global competition have further increased the demand for highly skilled workers at the expense of low-skilled workers in the continent. I believe that in Africa we need to create jobs that are relatively in tune with our present needs and to train students in that direction so that when they graduate there are jobs waiting for them where they can further develop and perfect their skills.
The unemployment problem in Africa can be described as structural in nature, given that there appears to be an ongoing and almost intractable mismatch between the types of workers demanded by firms and those in supply on the labour market. So it's understandable that unemployment in Africa is most prevalent among poorly educated, low-skilled workers. Within the context of an increased demand for skilled workers and reported skills shortages, the phenomenon of rising graduate unemployment is doubly worrying.
According to a March 2006 research report compiled for Business Leadership South Africa and funded by Standard Bank,  "almost 71% of the unemployed (broad definition) have a Grade 11 or lower qualification. Matriculants make up 26% of the unemployed.
"Tertiary qualified individuals, including people with post-matrix diplomas, technical qualifications and university degrees make up less than 3% of the unemployed. This represents approximately 200 000 individuals out of 7.8 million unemployed people in South Africa." The report also state that less than one in five of the tertiary unemployed hold degrees. In contrast, 82% of tertiary unemployed persons hold diplomas.
In India, for example, the IT industry has been a major driving force for faster growth and has provided employment opportunities to many. The IT, BPO (Business Processing Outsourcing) industry provided many jobs for the young generation. There was trickling down effect in the growth of these industries. The new middle class created by these IT and BPO industries gave rise toan unprecedented demand for goods and services which in turn created a fast growing economy and market – and thus many more employment opportunities.
Africa is facing an unemployment problem among its youth due to population growth and inefficient labour markets. Labour laws may not affect overall growth but they do influence where jobs are created and amplify the substitution of labour by capital.
Recent statistics published by the World Resources Institute show that Africa has the fastest growing population with an annual growth rate of approximately 3 percent, nearly twice the average world growth rate of 1.7 percent. The total fertility rate in Sub-Saharan Africa is about 6 children per woman over her lifetime. ((World Resources Institute. World Resources 1994-95. (Oxford University Press, Oxford, England) 1994.)
Many firms in Africa have lost skills over the last decade due to emigration: countries like Zimbabwe, Zambia, South Africa, Mozambique, Ghana and Nigeria, for instance, have been hit hard by this trend while poaching by competitors is widespread due to the general shortage of managers and more experienced workers. As a result recruitment continues to focus heavily on attracting skills at a premium. This raises the issue of identifying scarce skills.
There is a perception among employers that current educational subsidies are causing institutions to focus on enrolling large numbers of students rather than concentrating on the quality of education. Related to the skills deficit is the issue of a lack of soft skills. Many firms feel that graduates lack soft skills such as communication and general language skills (especially in English), which cause them to be unsuccessful in interviews. Often students are not emotionally ready for the workplace and must struggle to adapt to a corporate environment.
This leaves me with the questions:
"Why is there so much qualified and educated youth unemployment everywhere in Africa?
What does the future hold for Africa's rising economies and it impending future?"
Tags: Africa, Civil Society, education, Good Governance, Labour economics, South Africa, Sub-Saharan Africa, sustainable development, unemployment