Employment in Hungary – quantity over quality?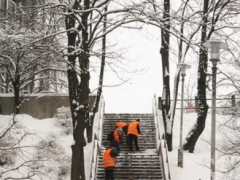 In Hungary the labour market and employment conditions often don't follow the spirit of inclusive growth. The present Hungarian government made several changes to the country's Labour Code and also introduced a unique public works scheme. The results of both measures have been heavily debated ever since. Does the goal to create more jobs justify legalizing worse working conditions? This article joins two separate stories about the same phenomenon: a problematic labour market with no respect for inclusive growth.
I hear several stories from my friends and family about their working conditions. Be it a SME (small or medium enterprise) or a government agency, neither sounds good. The latters are constantly being reorganized and haven't offered any payrise since 2006, while it is common practice by SMEs to employ workers officially for the minimum wage and to pay the rest in an envelope under the table. Income tax, pension contributions etc. are paid accordingly, based on the official (minimum) salary, which from 1 January 2014 is 101,500 HUF (EUR 336 or USD 461). Another common practice is not to pay for overtime, or to pay only a part of it, either peanuts or one day off for 40 hours of extra work.
In general, many of my friends (mostly in their twenties) describe their position as "very vulnerable, but at least we get paid." Moreover, I hear the same stories about people in their fifties. This practice with the minimum wage and the envelopes causes them even more damage, because they are supposed to retire in about ten years – but their pension will be, again, peanuts. (When it comes to pension, my generation is overall convinced that we'll get nothing, at least nothing paid by the state.)
This situation has several reasons, among them the lack of government control over employment practices, the high taxes companies have to pay for their workers and the general attitude: "everyone else does the same." Some of the people I talked to mention the new Labour Code as well, which came into effect in 2012, amid harsh political debate. After a few months in use, less politicized analyses concluded that the new Labour Code is in general more flexible than the old one. It allows less strictly regulated agreements between employer and employee, which can be in favour of the former or of the latter (or both or neither). It is up to the actors on the labour market, less up to the legislators, what kind of working conditions one will have after all. As for the "minimum wage & envelopes" system, it is older than the new legislation, and it doesn't seem to be affected by the new Labour Code either for better or worse.
***
The government's intention with the Labour Code was to attract foreign companies and above all to increase employment. The recent statistical data seem to prove the goal reached: in October-December 2013, the number of employed people passed 4 million (Hungary has a population of 10 million), 107 000 more than one year ago, which is said to be a historical success. It is assumed, however, that the public works scheme had a big role in this.
Public works in their Hungarian form are something of a national speciality. The scheme is designed to reduce unemployment, to provide the economy with workers where needed and to help those being without work for a long time to reintegrate into the labour market. As of today, one is entitled to 90 days of unemployment benefits. After this time, if one is able to work, one must accept the offered public works or will lose all further benefits. The payment is 75,500 HUF (EUR 251 or USD 345) per month (less than the minimum wage). The idea is not to keep those who are able to work on welfare. One has to make some effort for the money. Some say it's better than doing nothing but all agree that it's not enough to make a living.
In wintertime there are less opportunities for public works. Thus, the government has started an educational program – which has brought about a scandal. It was intended to help those who are uneducated to acquire skills necessary on the labour market. It ended up, however, humiliating skilled workers by making them spend their time with exercises designed for children. The reason is apparently that the whole program was organized in a rush: there was no time either to arrange student groups based on their education, or to formulate a proper curriculum.
Is it better to have a low paid job, and end up a so-called working poor, than being unemployed? How about accepting the "minimum wage plus envelope" scheme, knowing your other option is either migration or unemployment? Would it be better to join the public works than to fall out from the social net? It's sad these questions are even asked. We should move away from them and find solutions for "inclusive growth" and for avoiding the working poverty trap. Hungary has still a long way to go.
Tags: Hungary, inclusive growth, labour code, labour market, minimum wage, public works, social work, unemployment, welfare, working conditions, working poor