Empowering Women Entrepreneurs with Technology in Ghana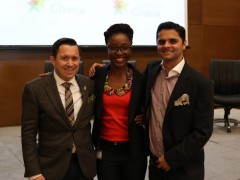 The under-development of the Ghanaian economy can possibly account for the socio-economic and other social challenges confronting Ghana's youthful population. Currently, there are no jobs and the only option left on the table for the Ghanaian youth is to become an Entrepreneur.
Entrepreneurial empowerment, modern technology and  strong working policies on Information Technology for Development are putting the Ghanaian youth back on the success ladder.
When Linda Quartey, a blogger and a fashion accessories designer was awarded as one of the Innovation Heroes by the Ministry of Trade and Industry and Google; I couldn't help but smile and also clap for what she's been able to achieve over the past couple of years.
This award celebrates positive examples of young women, initiatives as well as organizations using the internet innovatively to stimulate demand for locally produced goods, services and information.
Linda's award was as a result of her use of the Internet to develop solutions to socio-economic issues in Ghana.  She opened her accessories shop – Roots by Naa online to make it very easy for her clients both home and abroad to order fashion accessories and more from her.
Women entrepreneurs are making an important contribution to the development of the world's economy, particularly in low and middle-income countries in sub-Saharan Africa. A typical example is the success story of Linda Quartey.
A recent on Forbes piece on Women Entrepreneurship highlighted on the spirit of women entrepreneurs from emerging markets around the world. According to the report:
 "In Ghana, Nigeria and Thailand the rate of nascent women is higher than men and in Brazil, Ecuador, Uganda and Switzerland the start-up rates by gender are equal. While in the other 52 economies the rates of women's start-up are lower than men, sometimes up to six times lower, this is generally good news, perhaps signaling a positive trend.

This equalization follows decades of legislative, policy and socio-cultural changes that have gradually empowered, supported and trained women to perceive opportunities and believe they have the capabilities to start businesses."
The entrepreneurial environment in Ghana is vibrant and growing in comparison to other West African countries but a few challenges do exist. Gender discrimination, Lack of access, Balancing business and family and Lack of self-promotional skills are just some of the challenges women entrepreneurs face in sub-Saharan Africa.
The obstacles above present a great challenge for these women entrepreneurs in areas of business but in my honest opinion, that shouldn't deter them from achieving laurels in their businesses.
When women entrepreneurs come together, form networks and start sharing ides on how to tackle some of this life challenges/obstacles, empower each other with positive business ideas, whatever they set their minds on will be achieved.
Tags: Accra, Africa, entrepreneur, Fashion Accessories, ghana, Ghana Innovation Heroes, Google, Google Ghana, Linda Quartey, Ministry of Trade, Roots by Naa, Sub-Saharan Africa, women entrepreneurs, women in entrepreneurship