"En la ciudad uno es pobre"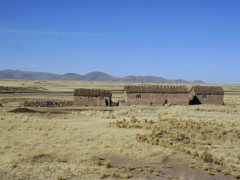 Abstract: Vicky is a single mother who works cleaning three different houses. She has three children but only the two younger ones live with her in a peripherical neighbourghood in La Paz. Her father is above eighty years old and lives alone in the country near Huari in Oruro. He has constantly opposed to her proposal of living in the city with her because he says that in the city people are poor. The situation for Vicky is therefore very complex because she still has to take care of both the children and her father, having a small income and little to none oportunities to change this situation.
Vicky trabaja en La Paz limpiando tres casas semanalmente por horas. Gana aproximadamente 900 bolivianos (130 US$). La canasta familiar está en aproximadamente 800 bolivianos (un poco más de 120 US$). Tiene dos hijos que viven con ella y otro que ya se fue. Su marido la dejó hace años y se fue a vivir a Santa Cruz. Vicky dice que ya tiene otra. Vicky viene del campo, de Huari, en el departamento de Oruro. Su papá, de más de ochenta años sigue viviendo ahí, solo. Vicky ha intentado traérselo a la ciudad, para que viva con ella porque está solo, está muy viejito y es difícil llegar hasta Huari. Él le dijo que no gracias, porque "en la ciudad uno es pobre". Entonces la que sufre es Vicky porque tiene que vivir aquí, su trabajo está aquí y sus hijos van al colegio aquí, pero su papá cada vez está mas delicado por la edad.
La semana pasada Vicky no fue a trabajar y no se la podía encontrar. Hoy llegó. Tuvo que viajar a Huari de emergencia porque su padre estaba con fiebre. Para llegar a Huari se debe tomar bus a Oruro que cuesta aproximadamente 30 bolivianos (5 US$). De ahí, ella contrata un taxi que la lleva hasta Huari por otros 30 bolivianos. Una vez en camino cayó una terrible nevada. Fue caminando, horas, a buscar a su padre que cuidaba su ganado. Finalmente lo convenció de que volviera a casa y que ella se quedaba con las ovejas. Helaba y la Vicky sólo tenía zapatitos, sin medias, y estaba, como es tradicional, con pollera. Es decir que caminaba en la nieve sin protección. Más de veinte corderos se les murieron con la helada y fue necesario un tractor para despejar el camino.
El papá de Vicky tiene la lengua llena de ampollas, dice que la fiebre le empieza en los pies y cuando le llega al pecho no lo deja respirar. No hay nada que hacer, no hay médico, sería carísimo llevar uno así fuera de un pueblo cercano. Cuando Vicky me cuenta esto tengo la terrible sensación de que se lo está dejando morir, pero en cuanto lo pienso, así es la vida y así es la muerte en el campo, natural.
Él definitivamente no quiere venir a la ciudad, aunque la Vicky tiene un detallado plan de cómo hacer para que su papá tenga sus ingresos de su tierra hasta que él decida venderla, si es que ese día llega. Tiene primos que estarían dispuestos a ocuparse de sus tierras por un (elevado) porcentaje. Pero a la Vicky no le importa, ella está convencida de que su papá estará mejor aquí en la ciudad porque ella lo puede cuidar.
La lógica de su papá es irrefutable. Si en la ciudad te da hambre no hay nada que hacer más que aguantarla. En el campo, siempre puedes sacrificar un corderito.
Tags: bolivia, cabeza de familia, madre, mujer, Pobreza