Fair dinkum, that's good tucker!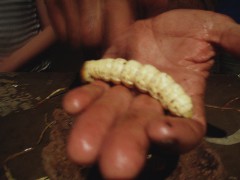 Good tucker that's not Macca's!
There's an old expression, "you are what you eat." I used to think to myself, "I don't get it…how could I be a cheeseburger? I certainly don't feel like a cheeseburger."
The Australian Insitute of Health and Welfare indicates that 'a higher proportion of Indigenous deaths than non-Indigenous deaths occur in age groups under 65 years…The highest standardised mortality ratios (SMRs) for Indigenous males and females were for endocrine, nutritional and metabolic diseases, where there were 7 and 11 times more deaths, respectively, than expected. (AIHW, 2012) Oxfam Australia tells us that Indigenous women and men die up to 17 years younger than non-Indigenous Australians and many Indigenous people suffer chronic diseases which are entirely preventable and have virtually been eliminated in the non-Indigenous population. (Oxfam Australia, 2012)
And so how are we tackling the problem of non communicable diseases as Daniel Kappellman discusses in his article "Death Threat"…
On the Tiwi Islands, north of Darwin (capital of Northern Territory) where a group of college students are being trained in the necessary skills and knowledge of using traditional bush tucker to create healthy, nutritious and delicious meals based on ingredients that are naturally grown.
CC Kaptain Kobald 2008
I spoke with Outback Chef, Jude Mayall, who worked on the Taste It, Do It, Live It Campaigns held on the islands, explained to me that the ultimate goal of this campaign was to "make people aware that they can eat healthy food, it's good for you and it can be fun. You don't have to eat processed food. We try to establish a cooking routine…there are so many foods that are grown naturally that anyone can use and eat…'
Australia's First Peoples have known this land for thousands and thousands of years and know how to utilise it for sustenance. In recognising the existing food knowledge indigenous Australians have, Jude expressed that "indigenous people were hunters and gatherers and a lot of those skills have been lost…and that is a real shame.."
CC Rusty Stewart 2009
She describes the ways we can change our approaches to food and diet. "We have to take a good, long look at what we're eating and where we're getting our food from…look at what we can grow naturally…seasonable vegetables and fruits are great…trying to utilise what is fresh and good and what we can get naturally…'
Growing naturally and knowing what goes into your meals is important but what does it mean for your health?
It's not just about meeting the recommendations provided by the healthy living pyramid, there are significant implications eating right and eating natural can have on your long term health. Food has an overwhelming influence on how you feel.
"With a good diet, good health follows automatically…you need to address other issues such as through exercising but good food is the fuel that keeps the body growing and going…there are problems in many indigenous communities such as kidney failure and diabetes that need to be addressed." Says Jude.
The team at the Taste It, Do It, Live It Campaign are working hard to share their knowledge about good food and healthy lifestyles. Their hard work is paying off.
'In the years to come…we will see a big difference in the kids and their attitude towards food…the kids now realise they have to wash their hands when handling food, we teach them hygiene in food preparation and now they are eating good & healthy food. It's a good program,' says Jude.
Good food and good hygiene is one thing but what about holistic approaches?

The Australian Government's Department of Health and Ageing and the Minister of Indigenous Health, Warren Snowdon announced last year that a financial commitment of $21.3 million dollars to establish locally based community initiatives towards better health for indigenous communities.
Programs like Hoops 4 Health using basketball to stay active or Football for Fitness and even through learning circus skills such as juggling and flipping to stay active such as through the Jammin' and Jumpin' for Health program in the Northern Territory. And that's hard yakka!
Jude shared with me a story about a young girl who said to her that she had taught her mother how to make a buffalo burger. She says that she has a lot of kids telling her they want to become Chefs when they grow up.
But Jude isn't expecting big changes, fast – she recognises that with any change in behaviour it's about 'baby steps, it's like throwing a little rock in the pond…the ripples start small but they just get bigger and bigger…'
I guess I am starting to understand what people mean when they say, 'You are what you eat.' If you eat healthily, you will be healthy. You won't literally turn into an oily, greasy cheeseburger, as hilarious as that would be.
If we didn't already have a beautiful environment rich in edible dishes around us, how would we as a species have survived for so long so far?
Care to know more? Try these links.
Australian Indigenous Health InfoNet
National Close the Gap Campaign
For all Aussie slang used in this post, click here