Forró music – an arena for the gender discussion?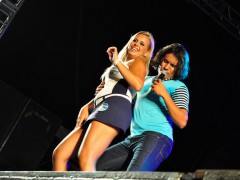 Growing up in the Brazilian city of Fortaleza,  I couldn't escape from the ubiquitous 'electronic forró' music, but I was never quite able to enjoy it. Forró is a very popular musical genre that covers various subgenres with specific rhythms and dances. It originated in the 19th century on the farms of the semiarid Northeast region, and sang about hardship, drought, hope and love. Traditionally, forró is based in a combination of three instruments (the zabumba, accordion and a metal triangle) and first came to national attention with the singer Luiz Gonzaga. In recent years, forró bands have embraced technological innovation to create 'electronic forró', with couples dancing more intensely and closer together.
The lyrics of electronic forró highlight themes of love and betrayal, although the majority of them talk about parties, alcohol, the importance of having money to spend and the conquest of girls as mere one-night stands – lauding the so-called playboy lifestyle – and reinforcing sexist disrespectful attitudes to women. For example, the group Forró Estourado explicitly praises such a lifestyle in their song "Money": "Guys don't have to be studs; they just gotta have money. That's what girls want. I know what I'm saying. A true playboy gotta have money".
The song "Eu descobri" ("I found out"), by the group Solteirões do Forró, uses two words of Portuguese to cause deliberate ambiguity about the opposite sex. The word carinho means "affection" but is also the diminutive form of the adjective 'expensive'; the word barata is a noun that means "cockroach" and an adjective referring to something 'cheap'. The male singer says he found that women like carinho, as if he meant affection, whereas what he's actually  saying is that women like "expensive cars, shoes, dresses and dinners, and a man who's got money". The female singer doesn't refute this – on the contrary, she says women are afraid of barata, as if she meant cockroachs, but what she's actually saying is that women dislike "cheap clothes, jewelry, purses and cheap trips". The male narrator argues that women don't leave guys who have money.

Yet when I listened to the song "Quem paga minha faculdade" ("The one paying for my college degree"), by the female lead singer of the Aviões do Forró band, it sounded quite feminist. She says "I've got a car and I'm the one paying for my college degree, so don't think you can have my love just because you have money. You say women only love cash and that women's feelings aren't true, but I'm here today to defend our honor and prove that there are women you cannot buy".
The song implies changes in Brazilian society, and possibly in gender relations too. Economic policies have fostered a new middle class composed by classes C and D: 40 million people who want to purchase more and who have set investment in education as a priority. The Institute Data Popular projected a budget [pt] of 31 billion US dollars for education in 2012, a 7.5% increase over 2010. The OECD report Education at a Glance 2012 stated that 91% of men and 81% of women are currently employed, while 12% of Brazilian adult women and 10% of adult men now have a college degree.
The song's leading character is independent: she has a job, has bought herself a car and pays for her college. She doesn't fall an easy prey to guys with cash. This idea is anathema to the sexist and still very dominant way of thinking that women should stay at home taking care of the kids, while men remain the breadwinners and holders of uncontested authority. It's hard to tell if we are about to see the birth of feminist forró songs, reshaping the music's recent reputation as a bastion glorifying money and playboy-lovers, but it sure is a indication that gender relations are by no means smooth.
Tags: brazil, brazilian women, forró, gender, music