A Stronger Economy? Learn Bank Speak!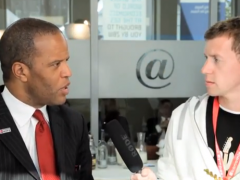 This post was produced for the Global Economic Symposium 2013. Read more at http://blog.global-economic-symposium.org/.
John Hope Bryant sat down with FutureChallenges contributor Jamie Stark after speaking at the 2013 Global Economic Symposium in Kiel, Germany. Bryant is the founder and chief executive of Operation Hope, Inc., a global nonprofit dedicated to spreading financial literacy. He has served as an adviser on fiscal education issues to three U.S. presidents and runs his own group of companies. Here Bryant and Stark discuss how financial literacy can be one of the keys to a strong economy and why combating fear of failure is a recipe for a more entrepreneurial society.
Tags: blog, financial literacy, future challenges, Germany, GES, Global Economic Symposium, Jamie Stark, John Hope Bryant, Operation Hope, video interview