Global Economic Symposium 2013: Future Challenges' Video Report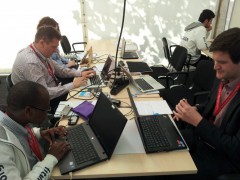 Hundreds of scientists, CEOs, representatives from NGOs and many more came to Kiel at the beginning of October 2013 to attend the annual Global Economic Symposium (GES). After last year's journey to Rio de Janeiro the GES came back to its base in the capital of Germany's northernmost state, Schleswig-Holstein.
Future Challenges has been a media partner of the Global Economic Symposium since 2010. This year seven out of the eight Future Challenges bloggers at the GES 2013 attended this high-level conference for the first time. They could thus report about the GES with a new perspective. The result is a vast number of interesting posts on various  global challenges like End the Unsustainable Plundering of our Planet , A Stronger Economy? Learn Bank Speak  or The Future of Europe: Finality or Finale? 
You can read all of their posts here.
The Future Challenges team wants to say thank you to Ajinkya Pawar (India), Dominika Kaczkowska (Poland), Dragos C. Costache (Romania), Jamie Stark (USA), Juan Arellano (Peru), Mubatsi Asinja (Uganda), Shahzeb Younis (Pakistan) and Yohana de Andrade (Brazil). We're already looking forward to the Global Economic Symposium 2014 in Malaysia.
The video below provides an insight into this year's GES through the eyes of our blogger Yohana de Andrade. A film team  accompanied Yohana throughout the GES.
Tags: Aart de Geus, Bertelsmann Stiftung, bloggers, economy, Global Economic Symposium, GLOBALISATION, globalization, Matthieu Ricard