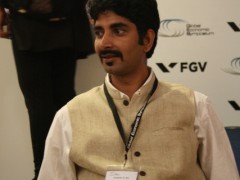 The following article deals with the topic " OOPs—Out of Prison" which was discussed at the Global Economic Symposium in Rio. The author intends to promote ongoing discussion of this topic by sharing his personal stories and ideas.
At Wednesday's Ideas Fair, attendees of the Global Economic Symposium had the opportunity to meet up close and personal with worldwide innovators in an informal setting. I sat down in a ring of chairs with Vimlendu Jha, founder and executive director of Swecha, an NGO dedicated to waste and recycling issues in India. He was at the GES to share the work of Green the Gap, a for-profit enterprise within Swecha that he founded four years ago, and of which he currently serves as CEO.
In Delhi, Jha explained, residents produce 8,000 metric tons of garbage daily. Big economies, simply put, are based on consumption. But, he asked, "Can waste be used creatively? Can waste support livelihoods and sustainability?" It was an idea he chewed over while making a documentary about wastepickers – the urban poor who make their living separating low-value recyclable materials like aluminum cans and cardboard from trash, then hauling them off to bulk dealers. His argument was that they are the real environmentalists because they are the ones actually recycling the nitty-gritty components of everyday life in the 21st century.
Green the Gap thus incorporates both wastepickers and local artisans in a small but profitable business. The company buys trash – rubber tire scraps, potato chip bags, milk cartons – at market prices from wastepickers and talented artisans turn them into accessories – wallets, coin purses, drink coasters, iPad cases. Pulling in several thousands dollars a month, the effort has proven economically viable and Jha emphasizes they do not take, nor do they want to take, donations. The goal, in his words, is to "create a local, sustainable economy. It might not affect India's GDP, but it matters to vulnerable people." Beyond the economics, there is also a cultural preservation element as women tailors use traditional art forms like madhubani art that are otherwise being lost.
On the production side, Green the Gap has a workshop with about 20 employees. On the sales side, it now has two stores of its own (one in New Delhi, one in Mumabi) and another seven stores across India carry its products. Jha admitted that his green products have become a fad, but that's a good thing. Those with the money to spend on an iPad, much less an iPad case, are precisely the market who will make recycled luxury-appearing accessories viable, especially when they can make it cool and hip to have GG (Green the Gap) instead of LV (Luis Vuitton) stamped on the side.
Tags: Green the Gap, mumbai, New Delhi, recycle, Swecha, upcycle, Vimlendu Jha, wastepickers