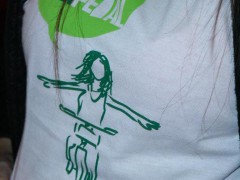 The following article deals with the topic "Effective Investments in Education," which will be discussed at the Global Economic Symposium in Rio this October. The author intends to enrich the discussion at the symposium with her personal stories and ideas.
"I believe I can fly, I believe I can touch the sky." That's how the chorus of the R. Kelly song begins, and that is what is stated on Bicicletorama's shirts about riding a bike. Bicicletorama is an experimental project developed by Carlos, Marlus, Mario, Harrison, and Tommy, five enthusiastic designers working for sustainable solutions and traffic education in Rio.
"I believe I can pedal," the slogan Bicicletorama's project used at the first exhibition at Circo Digital (Digital Circus), an event in Rio of three immersive days of digital culture, arts and technologies, expresses exactly the feeling of liberty that riding a bike gives the cyclist.
The world is running towards a new reality of alternative transportation; thus Brazil jogs that way, too. Although in small steps, Brazil, especially in the capitals, is starting to recognize the importance of the bike as transportation.
São Paulo, the business capital, despite of the chaotic traffic, has been slowly opening its eyes to this cause. Rio de Janeiro, the wonderful city, covers its edge with a bike path, which is mainly used for leisure. I myself pedal from downtown to Copacabana's beach when coming back from work. I use the bike only to return, because you cannot avoid getting really sweaty in Rio's heat, and it's not yet common to have a shower at work (although it would be a great idea!).
Sustainable means of urban transportation are matters for education and culture. The government is responsible for investing in it, implementing bicycle lanes and traffic education programs. On the other hand, parents, as educators, must stimulate their children (the nation's future) to prefer going by bike to going by car. This will not just help to reduce the rate of carbon dioxide emitted by cars but will also give children a better quality of life, a healthier life. It's important to start this education in childhood, giving kids examples, going for a picnic on bikes instead of by car, going out on the weekends pedaling as a family. What child has never asked Santa Claus for a bike for Christmas?
Back to Bicicletorama: this great project aims to educate children and adults about urban transportation with bikes, and it is intended not only for cyclists but also motorists. In a funny and different way, the project merges reality with the virtual world. The player pedals a real bike and sees its image projected on a speedway where the rider has to dodge several cars that do not respect the space of the bicycle. You leave the game with a great desire to ride a bike or, if you are a car driver, at least to begin to think that both cars and bikes have their place on the road and that peaceful coexistence is the best choice not only for the bikes but also for the sake of the traffic jam, which moves much more freely with fewer cars and more bicycles.
Many cities in the world, such as Amsterdam, Beijing, Copenhagen, and Montreal, already benefit from the bicycle as a means of transportation. Rio is pedaling to become the city of the Bike, integrating cycling with other modes of transportation in the city in anticipation of the Rio 2016 Olympic Games.
While the city is being prepared and educated for it, let's start our own wheel movement and begin to pedal. But don't forget, especially if you don't have a bicycle path, that pedaling in a big city is not like playing in Bicicletorama, and you must remember some pointers for staying safe, like wearing a helmet, being visible and obeying traffic rules. Otherwise, enjoy, and believe we can pedal!
=> Go to the site to see more about Bicicletorama.