Ghana's Western District Now Expensive Due to Oil Discovery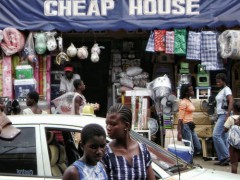 Takoradi is a city on the brink of transformation. The discovery of oil and gas in commercial quantities in the Western Region of Ghana in 2007 has brought about the high cost of liv­ing in Sekondi-Takoradi and its surrounding communities.
Haven't lived and worked in Takoradi as an IT Consultant from March 2009 till the early part of 2011, I can attest to the fact that Takoradi is gradually becoming Ghana's most expensive city due to the oil found. The general cost of living in Takoradi and it environs have been on the increase. Prices of goods and services are skyrocketing and this is very alarming.
Food, transportation, residential accommodation and office spaces are just some of the affected items. There's been a major increase in the setting up and in some cases the relocation of some banking institutions and financial services from the main capital – Accra to Takoradi because they believe, there is a new market for them.
Some foreign Oil & Gas companies have moved and started operations in Takoradi, while some still have their equipments docking at the Takoradi Harbour in preparation towards operations as Ghana reaches the stage of producing oil in commercial quantities.
In the past, we've attributed this high prices of goods and services to gold mining communities in the Western (Tarkwa, Bogoso, Prestea, Bibiani, Nzema) and Ashanti Regions (Obuasi) but it looks like, that trend is already affecting Ghana's new oil district – Sekondi/Takoradi.
Landlords and property owners now charges very exorbitant prices on their properties and failure to pay rent on time results in possibly ejection in anticipation to leasing to workers from the oil industry and sometimes the banking sector.
Whilst in Takoradi, I used to pay GHS 2,500 (USD 1,204) for an unfurnished studio apartment for a year. The same property as of today is been leased from about GHS 6,000 (USD 2,890) per year. There's no control on rent issues as the Government haven't been able to figure how to control Landlords from charging exorbitant prices on their properties.
Not only residential accommodation is affected by this trend, the hospitality and catering industry is also affected. Rates in hotel accommodation has also shoot up in the past couple of years. Their prices ranges between  USD $120.00 and USD $300.00 and are mostly likely to go up as per the economy and an increase in taxes.
There's a greater demand for short-stay accommodation due to the nature of movement of workers from the oilfields back-and-forth, hence some hotels have increased their prices to reserve their rooms for only the best of customers who have means of paying.
Before I conclude, there are a few issues that need addressing when it comes to Takoradi escaping the resources curses associated with some major oil producing countries.
A proper development plan need to be drafted to highlight the development goals of Sekondi-Takoradi, taking into consideration housing/accommodation, jobs and good quality education for the residents. A law banning higher rent charges and the provision of affordable housing schemes will go a long way in improving the living conditions of the people in Sekondi-Takoradi.
Many young people, myself inclusive are very optimistic about the positive changes that will come to Takoradi and its environs when this measures are put in place.
Tags: ghana, inflation, Natural Resources, Oil, Oil Industry, Sekondi, Takoradi, Western Region