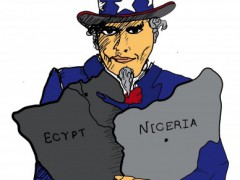 US foreign policy in Nigeria and Egypt prioritises stability at the cost of democracy
At the time of writing, all eyes are firmly fixed on the Arab world. Despite its support for the Arab awakening, the United States remains governed more by its national interest than humanitarian concerns. This is especially clear in its relationship with oil-rich Nigeria, where stability has traditionally been maintained at the cost of democracy, a strategy meaning it is now the United States' top ally in western Africa. According to the State Department, oil exports to the US make up 90% of Nigeria's GDP, showing that Nigeria's economic growth relies heavily on its oil market.
Since Nigeria's transition to democracy, successive administrations in the US have maintained a close relationship with the country's political elite. After 9/11, the US sought to expand this political relationship with Nigeria in order to procure support for its war on terror. Just as Egypt was a bastion of pro-West stability in the Middle East, so Nigeria is the same in sub-Saharan Africa.
Democracy Now?
Again like the ousted Mubarak regime in Egypt, Nigerian democracy fell short of the ideal. Since the end of military dictatorship in 1999, the People's Democratic Party (PDP) has dominated Nigeria's political system, consolidating power through an informal agreement known as zoning. This involves an alternating model to strike a balance between northern and southern interests in Nigeria: a northern Muslim president must replace a southern Christian president, and vice versa, which serves to protect elections from falling victim to sectarian divisions.
When the previous president, northerner Umaru Yar'Adua, died in May 2010, he was replaced by his vice-president, southerner Goodluck Jonathan. Rather than stepping aside at the end of his term to allow a Muslim candidate to stand, Jonathan chose to run for a second term of office, emerging victorious on April 16th. While experts remain divided regarding the implications of this, some interpret Jonathan's success as the end of the zoning agreement. The result of Nigeria's presidential election may have jeopardised the country's traditional stability, thus leading to potential changes in the US-Nigeria relationship.
Complex Changes
This was seen last year when a Nigerian man attempted to blow up a plane over Detroit on Christmas Day, and the US promptly placed Nigeria on its terrorism watch list. Islamic extremism has reared its ugly head once more. The day before the bombing, 32 people were killed in Jos while another six died in terrorist attacks on Christian churches in North-east Nigeria. Though the perception that elections were fair and Jonathan's victory deserved has prevented a full-scale civil war, Nigeria is not out of the woods yet. While he may have been handed a mandate to govern by his people, Jonathan needs to convince northerners their interests will be represented.
The international community should rejoice that its efforts to ensure a fair election process in Nigeria have yielded success. However, the US should remain concerned about Nigeria's Muslim North. If they continue to feel disenfranchised, their frustrations could provide the fuel for future terrorist attacks on western soil. As with the changing situation in Egypt, the primary concern for the US is not the absence of a fair democratic process, but the uncertainty of Nigeria's status as a partner in the war on terror.
Tom Gardner is a member of Global21, a student network of international affairs magazines and a partner of FutureChallenges. A longer version of this article was first published in the Oxonian Globalist.
Tags: democracy, egypt, elections, foreign policy, Nigeria, USA