Goodwill and good governance: cornerstones of flood recovery in Brisbane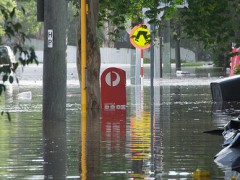 In January 2011, after weeks of rain, I was filled with dread upon hearing that the biggest flood in over 35 years was expected to hit my hometown of Brisbane. On January 13 my fears were realised, as the Brisbane River peaked at 4.46m above sea level, flooding more than 2200 homes and 7600 businesses. Fortunately my family and friends lived outside of the flood zone, so we were not affected directly. But it was almost surreal viewing the images on TV of entire suburbs being completely inundated.
What impacted me most about the whole event, however, was the volunteer response to the devastation. Within 3 days of the floods striking, over 55,000 volunteers had registered their interest to assist with the cleanup effort, to the extent that queues of eager volunteers had to be turned away (watch video below). Brisbane City Council had the primary role of managing the cleanup effort, including coordinating with key volunteer agencies to direct over 23,000 "Mud Army" volunteers. Over coming months, Council also developed a comprehensive Jan 2011 Flood Action Plan, detailing how resources would be managed and distributed in order to rebuild and restore the flood affected areas, at an estimated cost of $440 million over 3 years. All in all, the response is a demonstration of how effective democracies (and in particular, effective local governments) can engage citizens in preparing for and responding to natural disasters, and in doing so, build community resiliency to similar events in the future.
Reflecting on the Council's response to the Brisbane floods, I would definitely agree with Farhan Janjua that effective democracies are generally better placed to respond to natural disasters than other types of government. As highlighted in this paper, the level of government preparedness and response will ultimately determine the extent of suffering incurred by the population. At the same time, citizens who are both informed and engaged are more likely to have a stronger sense of social capital and hold their governments accountable, contributing to an overall sense of resiliency in the face of natural disasters. According to a Council spokesperson, there may have been several motivators for people spontaneously volunteering over the cleanup weekend, including seeing the impacts and feeling motivated to help someone in need, as well as media reports prompting those not affected to pitch in and lend a hand. After talking to some of the volunteers involved in the cleanup effort, I also believe it is this sense of goodwill or "community spirit" that helped rebuild Brisbane after the floods, while preventing opportunistic pillaging.
Given that natural disasters are inextricably linked to climate change, they are something we all, including governments, need to specifically plan and prepare for. One such tool to assist with natural disaster preparedness is the "social vulnerability index," developed by researchers from the Griffith University Urban Research Centre in Brisbane. According to Baum, Horton and Low Choy (2008), different groups within the community display differing levels of "social vulnerability" to natural disasters. For example, households with lower socio-economic backgrounds tend to have higher mortality rates and greater housing loss. Other important factors include age, physical disability, demographic type (eg single parent households), and so forth. Information and communication in preparing communities for natural disasters is also vital. Since the Jan 2011 floods, Brisbane City Council has developed a free Early Warning Alert Service, whereby households are able to receive sms, email or a phone call notifying of severe weather forecasts, and so far 55,000 homes have subscribed. Residents are also eligible for a free Floodwise Property Report, assessing the flood risk to their property. A Smartphone App is also being developed by Volunteering Queensland in partnership with the Queensland Government, to more effectively mobilise volunteers for future extreme weather events.
The Council response to the Brisbane 2011 floods demonstrates the importance of local government planning in building resilient communities in the face of natural disasters. As highlighted by Dr Steven Cork (2009), "Governance systems that involve people who live closest to environmental change as key decision makers are more likely to detect and respond to change quickly than centralised governance systems far from the sites of change."  Local governments must plan for resilient communities by equipping citizens with the information, resources and support they need to bounce back from adverse situations by building on their existing strengths. Inevitably, it will always be more challenging for more isolated communities with limited resources, which is where state, federal and international assistance becomes indispensible. As demonstrated in the case of Brisbane, a high level of social capital means that communities have access to effective communication and support networks, and can call upon a wide range of resources in times of need. When citizens feel their contribution is both valued and supported by their governments they are also more likely to participate fully in their communities. In doing so, they can prepare for and respond more effectively to social, economic and environmental changes, including natural disasters.
To watch a video of the volunteer effort, click on the link below:
Volunteers march in to support flood victims
This website also has some excellent resources on building resilient communities, including "Portraits of Resilience:" http://learningforsustainability.net/susdev/resilience.php
Tags: Brisbane, CLIMATE CHANGE, community building, community participation, democracy, disaster management, flood recovery, Good Governance, Governance, natural disasters