Health-care delivery in Uganda Isn't Attractive; Government Urge To Intervene.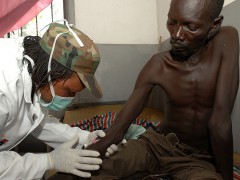 In April last year, Daily Monitor, one of Uganda's daily newspapers reported that the country was spending at least shillings 380 billion ($150 million) annually to treat top government officials abroad. Never mind that this bill is picked by the poor Uganda tax payers. In the news article the President  Yoweri Museveni was reportedly alarmed at this wanton expense and was asking his ministers to cut down the cost. But that seemed to be another rhetoric.
Ugandans appear to be accustomed to seeing their leaders and their leaders' relatives fly out of the country seeking medical care for simple cases like giving birth as the majority poor are turned away from government-run hospitals for lack of basic medicines and absent health workers. Recently, two cabinet ministers Eriya Kategaya and Hillary Onek were flown out of Uganda for specialized medical care.
The question on many Ugandans' lips was: why can't the government build hospitals that can handle these cases at home? The current government has been in power for the last 27 years but when its top officials and the privileged rich Ugandans fall sick the best they can do is to board a plane to Nairobi, South Africa, India or Europe in search of better hospitals.
The pursuit for answers to this question led me to Uganda's Ministry of Health. Currently, the Uganda government has over 1,400 health centre II units, 800 health centre IIIs, 154 health centre IVs, 70 general district hospitals, 13 referral hospitals and 2 national referral hospitals.  Much as it is important to appreciate this contribution to the health sector, more needs to be done.  Most of these health facilities have no medicines and insufficient medical staff; and the few who work there are underpaid and sometimes delayed to be paid their meager salaries.
On January 28, I had an interview with the permanent secretary in Uganda's Ministry of Health, Dr Asuman Lukwago, about what one would cynically call medical tourism for government officials who fly out of the country to seek specialized medical attention. In Uganda's civil service hierarchy, a permanent secretary is the chief accounting officer in any ministry. And, ordinarily, as is the norm in Uganda today, a civil servant of Dr Lukwago's calibre should toe the line and defend actions of the government he serves. But that's not the impression I got from Dr Lukwago's responses. He seems concerned that too much money is being spent on medical attention abroad when many of these ailments could be handled domestically.
The permanent secretary said on average Uganda government spends $50,000 (shillings 130 million) on a single government official flown out of the country for treatment. He says sometimes this excludes money for air tickets, hotel and other facilitation. Sometimes additional $30,000 can be given as an addition to allow the patient seeking medical care abroad and their care givers to acclimatize themselves with the new environment in the new country.
Dr. Lukwago says some people seek medical attention abroad because they lack knowledge that such cases can be treated here. He says Uganda now has minimum capacity to treat many of the cases that are referred abroad. He cites Uganda's capacity to carry out open heart surgery, etc. He says Uganda's TB reference laboratory at Mulago has been voted as the best in Africa.
He argues that the ministry is embarking on sensitization of public on what the health sector has available in order to reduce referral cases abroad. But, he says, some of the people cannot be denied going for treatment abroad because if they die, they will blame it on you.
"This is a bet really because you can say should we allow them to die. The answer is no. but government is moving in to cut down these costs by limiting the number of people seeking medical treatment abroad," says Dr. Lukwago.
"Government wants only serious cases referred abroad. We want some of this money spent here. In 2 years we should be able to reverse this. We are putting up a specialized hospital at Entebbe to handle cases like cardiac arrest and the cases seeking treatment abroad will be limited."
Clearly, there is also a need to build an internationally attractive hospital. With better hospitals and well-motivated medical personnel we would mitigate the brain drain and now health tourism that is bleeding this country.
Other countries have health insurance cover for their citizens whether poor or rich such that whenever they fall sick they all access same medical attention. Rwanda is doing this and it is reportedly paying off. In Rwanda a medical board decides who flies out of the country for medical treatment including the poor. Maybe if we started medical insurance for all Ugandans here, the poor would perhaps feel less betrayed.
Tags: Africa, Daily Monitor, Eriya Kategaya, Lukwago, Mulago, Uganda, Ugandan, Yoweri Museveni