Identity Trade-Offs Define Today's Globalised Citizens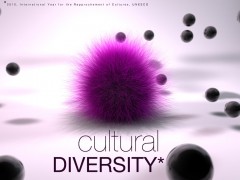 Consistently over the past few months, there have been a slew of Western media articles on what Al Jazeera calls an instance of 'reverse migration'. Many people who used to go to the US and Europe for a better life, are trooping to Africa to take advantage of a growing middle class and improved economic growth rates.
Not to be left out is China, a country that is billed to become the world's biggest economy in a little over three years according to one article on The Guardian.  This dialogue by two columnists on Marketplace gives a bit more perspective on how come China will achieve this milestone as soon as 2016 while still being called a developing economy itself.
The world is getting smaller everyday.  When I walked into this small Ethiopian hotel in the Congolese port city of Pointe-Noire, hardly did I know that right at that reception, there would be a potpourri of cultures blending into each other and underlining the smallness of today's world.
Beforehand, my connecting flight from Addis Ababa was half made of Chinese heading to Congo's oil city. Subsequently, I have easily counted ten nationalities of different people I have met, who have travelled from far and near to work in this bustling city.
I am Ghanaian and I speak the official language of my country, English. To make myself clear to the Congolese receptionist and Ethiopian butler who spoke little English, I had to speak French which I stutter at.  We fell into mimic and mime, nervous laughter and giggle. Before we had made ourselves understood, we had communicated in three different African languages to and fro, because one or the other understood a little bit of this or that.
Of course, with our varying degrees of understanding of English and French too, the transactions ended with everyone on the same page; my room was booked and well-supplied, the receptionist took my orders for supper and the butler understood my need to have housekeeping delay their duty in my room the following morning since I had to sleep enough to recover my jet lag. Five languages were traded.
This is the cost of cultural integration. Middle lines have to be drawn to accommodate other cultures and in so doing, a little bit of your original identity has to be sacrificed or traded for another. You may have to grow accustomed to originally strange cuisine, speak in corrupted grammar to be understood or  just plainly make a fool of yourself at the restaurant when you see that 'ananas' in the French menu is not exactly the fruit your English mind thinks it is.
But there are many benefits to a more cross-cultural world. The Ethiopian hotelier made it clear that Ethiopia is one of the most culturally-preserved countries in the world, being the only African country that successfully resisted colonial rule and also one of the few whose people did not have to migrate from different regions to settle in their present location. Today, much of the country's culture and history is preserved and dates back to many years BC.
They have their own calendar currently dating 2005, their own national language, Amharic whose alphabets are the unique Ethiopic script used for no other language in the world. In cultural purity, they are very much like the Chinese or Japanese. What she laments is the eventual difficulty of Ethiopians to feel at home in places where the food, the life and the culture is vastly different from what they have known from ages. 'Ethiopians simply haven't mixed enough with the world', she says.
Ultimately, opportunities for speaking new languages, bonding with people from all over the world and learning how people react to different environments make migration a revolving mill for creating a mélange person.  My definition of that person will be one who is socialised enough to almost comfortably fit in all the cultures he gets exposed to in the future at partial cost of the original identity his country instilled in him.
By the spurring on of migration that brings us into different worlds and cultures, we're creating a new citizen of the world: a sort of Citizen 2.0 modelled on the virtual borderless-ness of the internet. More precisely, with respect to cultural identity, 'Citizens Without Borders'.
Tags: Addis Ababa, Africa, Amharic, Congo, Ethiopia, Ethiopian, GLOBALISATION, migration, Pointe-Noire, united states