In the Face of a Receding Lake, Water Conflict at the Ethiopia-Kenya Border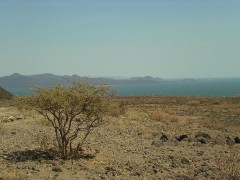 The Kenyan government has decided to send 200 additional reserve troops to the Kenya-Ethiopia border in response to Ethiopian militia attacks in the Turkana. At present, tensions are high following the killing of a Kenyan police reservist at the hands of Ethiopian militiamen.
This occurs less than a year after Kenyan President Mwai Kibaki and former Ethiopian Prime Minister Meles Zenawi's May 2011 meeting in Uganda, where they decided to end border conflicts amicably. In addition to water conflicts, there is the conflict of claims over the Elemi Triangle, which is the northwestern corner of Lake Turkana, bordering South Sudan, Ethiopia and Kenya.
As I previously addressed in an article entitled "Water Scarcity and Conflict at the Ethiopia-Kenya Border," water shortages have been contributing to tribal clashes between the Kenyan Turkana and the Ethiopian Dassanech, Nyangatom and Mursi tribes.
In the Horn of Africa's, where regional temperatures have risen 2 degrees Fahrenheit since 1960, and are projected to increase an additional 2-5 degrees by 2060, climate change is particularly salient. The effects of this climate change: increasing variability of rainfall, deforestation and land degradation are all occurring within the context of rapid population growth and limited land and water resources.
An estimated eight million semi-nomadic people in Southern Ethiopia and Northern Kenya depend on the waters of Lake Turkana for their livelihoods. Lake Turkana gets 90 percent of its water from the Omo River, but in recent years, the lake has been receding into Kenya.
The conflict is further exacerbated by the diversion of the Omo River's flow to Ethiopia's upstream dams (including Gilgel Gibe III), considered the largest hydro-power project south of the Sahara. While providing electricity to Egypt, Sudan, Djibouti, Kenya, Uganda and Yemen, the dams threaten the livelihoods of nearly a million nomadic, pastoral tribesmen.
The question at this point is, "are we going to see a repeat of previous events?" In the first week of May 2011, fighting at the Kenyan-Ethiopian border claimed 34 lives. This, in addition to what Steven Watson alluded to in his lead article "Liquid Asset"- the disincentivizing effect of food aid and the perceived price of water, makes it clear that the price of water is high. However, our attitudes toward water use often do not reflect this:
"The moment international agencies give out food, there's no incentive for the local population to help themselves," he says. "I worked for some time in the Turkana desert in Kenya where that was very evident. As long as somebody else gives out food there's no reason to try and provide your own food. It's a lot of work. Why should you work when you can get it for free? Or take for example the price of water; if water is expensive for you then you will try to use it as efficiently as you can and minimize losses. However if you get the water free as is the case in a very large number of developing countries then there's no real incentive to use it efficiently."
Furthermore, in the late 1970s, the Kenyan government's policy of arming the Turkana was followed within a decade by the Ethiopian government's arming of Dassanech tribesmen with Kalashnikov automatic rifles.
As poor irrigation practices, dams and evaporation due to temperature increases cause the waters of Lake Turkana to recede into Kenya, will it become increasingly urgent for us to find solutions for sharing and conserving our natural resources?
Tags: Ethiopia, Fahrenheit, Kenya, Lake Turkana, Mwai Kibaki, Omo River, Prime Minister Meles Zenawi, water management