Mexico: Is Freedom of Violent Assembly and Association a Human Right?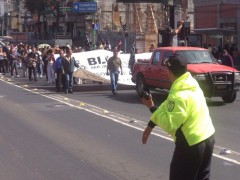 Recurrent protests in Mexico City over the past three years have been by violent clashes between demonstrators and security forces. Physical injuries, damage to public infrastructure, destruction of businesses, lost sales and the blocking of public/private transportation caused by demonstrations has generated enormous economic costs.
According to Mexico City Congressman Héctor Saúl Téllez Hernández, from 2009 to 2012 there have been 17,909 protests in Mexico City, resulting in losses of around 5.8 thousand million pesos (13 pesos equals approximately 1 dollar). In 2013, the scenario was very similar. Millions and millions of pesos were lost due to demonstrations related to an increase in the subway price, energy and education reforms, commemoration of the 2nd of October Tlatelolco student massacre (1), and many other reasons.
Meanwhile, the government has its hands tied to a tolerance policy, requiring that it is be very careful about each action so as not to provoke the people while trying to enforce the "peaceful" clause for massive protests. The lack of collaboration and trust between the government and civil society has generated a huge legal gap in which freedom of public expression is incorrectly confused with freedom of violent protest.
The algorithm goes like this: a protest begins, policemen arrive to stand guard, a group of people starts the aggression and now it is time to make a choice. How should the policemen react? If they answer back, the government is accused of being repressive and autocratic, but infrastructure and civilians are protected. If they don't, the government is seen as tolerant, but the policemen get injured and the public order is anarchically disrupted.
As a response to this dilemma and trying to lower the economic expenses as well as social problems created by these massive riots, a Public Demonstrations Law was proposed last year in Congress and it is still on the table in consideration. Some of the most important points of this bill are:
Presence of Human Rights Personnel in every demonstration.
48 hours notification required prior to demonstration.
Prohibition of totally blocking one-way streets and main roads.
Time schedule between 11:00 and 18:00 hrs (considering traffic hours).
Empowerment of the Federal Secretary of Public Safety to control demonstrations.
Economic sanctions for those who disrupt the public order.
Prohibition of insults and threats.
On the one hand, regulating massive protests could be a good idea to avoid improper behavior, enforce respect to the rights of others and sponsor a safer environment for groups manifesting their ideas. On the other hand, it is totally comprehensible that civil and human rights organizations are currently trying to avoid the approval of a law that could neutralize the citizen's right to peaceful assembly and association.
Due to the enormous risks and complexity of approving such a law, it is now more than ever necessary to strengthen the public dialogue between the government and civil society in order to achieve a mandate that is adequate for both sides. This is the only possible way to make sure that Mexican fundamental rights will be protected while the government recovers the legitimacy to control law abiding behaviors during protests.
At least for now and while the proposal is still being discussed, Mexico City will continue to suffer endless traffic jams, destruction of monuments, vandalism and damages to both big and small businesses. Hiding behind the thin veil of freedom of assembly and association lies a violent virus that has been continuously damaging Mexico… feeding from society's lack of cooperation.
1) The Tlatelolco Massacre happened in 1968, when student protests were violently reprieved by the government, causing several deaths  and disappearances. Until today, each year there are commemoration events in Mexico with the moto: "end of October will never be forgotten".
Tags: Demonstrations, Freedom of Association and Speech, Mexico City, protest, violence