Land Grabbing in Sierra Leone: Who Benefits – Farmers or Investors?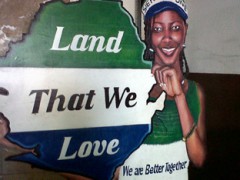 In launching the "Agenda for Change" in 2008, the Government of Sierra Leone declared "agricultural development and food security to be the foundation of the country's economic development and poverty reduction" strategy.
But is the large-scale acquisition of arable farmland in Sierra Leone by foreign investors part of this strategy, and is this the kind of agricultural development the country needs to provide food security for its rising population?
It's a fact that agricultural development can mean different things to different people. But for the foreign investors who in recent years have leased hundreds of thousands of hectares of farmland in Sierra Leone, it generally means large, industrial-style plantation agriculture used for the sole purpose of profit-making.
Since 1979, Sierra Leone has lost nearly 70% of its forest land with less than 5% remaining. This has resulted in a significant loss of biodiversity as well as in land degradation that both have negative repercussions on the livelihoods, food security and the natural resource base of the population.
Land acquisition in Africa has been hailed by bureaucrats and economists as a "win-win" situation that can bring agricultural and economic development to the continent, while most of its critics see and describe the trend as nothing more than neo-colonial "land-grabbing". Sierra Leone is a small country of about 7.2 million hectares (ha) of land which makes it less than one third the size of its neighbors, Guinea and Ghana. It is estimated that about 5.4 million ha – or 74% of the country's land – is  suitable for agriculture.
The Government and the Sierra Leone Investment and Export Promotion Agency (SLIEPA) have expressed a strong desire to attract large-scale foreign investment to the country's agricultural sector. According to the 2011 in-depth "Study on Rural and Agricultural Finance in Sierra Leone" by the Bank of Sierra Leone and the German Ministry of Economic Development and Cooperation, less than 15% of the country's land is currently cropped each year and vast areas of "unused" or "underused" land are available for foreign agricultural investment.
Agricultural activities, primarily smallholder farming, represent 70% of all employment in Sierra Leone. It is in urban areas that unemployment is rampant; urban youth are 25 times more likely to be unemployed than their rural counterparts, so taking land from rural people can only exacerbate this problem.
Research by the Oakland Institute and Green Scenery in late 2010 showed that more than 500,000 hectares have been recently or are in the process of being acquired by foreign investors. SLIEPA has received USD 2 million in funding from the EU, and has hired a company, Nestbuilders International, to develop a "marketing package" with up to six more site profiles – or land areas – for large investors.
In Sierra Leone, to date most of the foreign investors making major land deals are European or Asian corporations or investment funds. Their focus is on commodities for export, not food for the people.
SLIEPA is at the forefront of the country's drive for foreign investment in land. SLIEPA has claimed that this will create more than 50,000 jobs in rural Sierra Leone, and bring "development" – good roads, education and health facilities, water wells, scholarships – to the rural areas of the country. It is on the basis of such promises that local communities and landowners agree to sign over their farmland to foreign investors.
SLIEPA also defends the push for foreign investment in land for sugar and palm oil, both raw stocks for agro-fuels, by arguing that this is instrumental in the government's efforts "to reduce dependency on fossil fuel, and thus to enhance food security, provide electricity and create jobs for the people". I find this claim misleading as Sierra Leone does not have the capacity to use agro-fuels to replace fossil fuels, and the foreign investor's intent is to export the palm oil or ethanol from sugarcane.
Recent months have seen rising tensions between local communities and these foreign companies with their land operations as most of the so-called promises made to the people have not been met, and the Minister of Lands, Country Planning & the Environment, Alieu Patsowe, has been summoned to look into and review all the land deals in the country.
The general consensus is that there should be a public debate on sustainable ways to achieve food security and reduction of poverty. The Government should put a halt to large-scale agricultural investment, undertake an independent land inventory and develop a sustainable and transparent natural resources management system.
Agricultural investment in Sierra Leone is urgently needed. Yet the question most farmers are asking government is what kind of investment and for whom. This has to be answered on behalf of, and for the benefit of, the rural population. The UN categorizes Sierra Leone as a "low-income food-insecure country". This means that people in the country are particularly vulnerable to global rises in food prices. (Food and Agriculture Organization of the United Nations.
The government needs to support farmers who produce most of the country's food, and who could produce even more if given the support they need in terms of infrastructure like good roads, storage and processing facilities to reduce post-harvest losses, market information and access, healthcare, education, and potable water supplies to improve rural living standards.
It's important that the government design ways of improving agricultural production within the country rather than leasing the land to foreign investors whose sole purpose is profit, and who serve their own agenda to the detriment of both citizens and the environment.
Tags: Africa, food security, land grabs, mining, Natural Resources, protest, renewable energy