My childhood, their childhood and the missing peace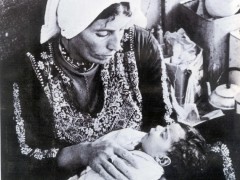 I was born in Gaza, a small, lovely coastal strip on the map.  I am now 28 years old so I was born when the Palestinian territory was under Israeli control, and under occupation. I was three years old when the first intifada erupted. For a child like me, it was not easy to understand why those guys were throwing stones at other people who were wearing military suits and carrying guns.  I liked, mostly, the guns, yet hated the sound of bombs and bullets. I loathed the smell of tear gas and burnt wheels with their black ash that made me sick.  My father used to take me to his work and to the market, and I would ask him why these barriers and walls were built in the middle of the streets. Then I realized that the Israeli soldiers built them to make it hard for normal people to pass unhindered, forcing them to pass through checkpoints.
I was an eight years old when I had my first encounter with the Israeli army. That incident opened my eyes and made me think of the soldiers as the "others, the enemy". They stormed our home and took the men, and tortured them in front of my eyes. Another time, they came to my father and said, "We want those two boys" – meaning my younger brother Mohammed, 4 years old and myself. I ran away and escaped to the neighbor's home, but my brother Mohammed, a skinny dark haired boy was not so lucky. The soldiers asked him: Who is throwing stones at us? That was a simple daily scene of our life.
I witnessed the day to day unfolding of the first intifada until 1994. It affected my childhood and I am living its legacy now and will live with it forever. In 1994, Palestinians celebrated the peace agreement. As always, we saw Arafat as the symbol of Palestinians and we followed in his steps. I loved him whatever he did and would do. By that I mean that I witnessed the beginnings of the peace era in the Middle East. After that, I did not see Israeli soldiers nor did I hear bullets or smell tear gas in my neighborhood. Ever!
The economy began to boom with new high rise buildings, new cars, new gardens, and clean streets, (and no Israeli observation towers above every high building anymore) and a police with a Palestinian flag and brand. That was lovely, inspiring and empowering for the prospects of peace. Kids could ask their fathers to go to Jerusalem and eat "Ka'ak", the old famous holy city bread with Falafel, ice cream, milk and yogurt and chocolate. I used to see Arafat on the TV speaking about peace and coexistence and the Palestinian state, but I could never imagine what this might look like until 1999 when I understood that we must have a state. All that had happened and yet we still did not have a state? Yes, because I could still see Israeli soldiers in the middle of Gaza whenever I traveled south.  That was not fine for me, even as a child. Naïvely, I was waiting for the war with the "other", the enemy.
The second intifada started when I was a young man. I could understand everything in Palestinian-Israeli politics. I realized the malaise of the Palestinians and the politics of occupation, peace, conflict, killing, murdering, suicide bombing, F16, tanks, artillery, armored vehicles, bombs, RBG, AK47, M16, escaping, mourning and threatening. The hard life of a young man who lives under occupation and fears a return to his horrible childhood started with unwelcome events that inaugurated a new page of bloody conflict in this holy land. We could no longer visit Jerusalem, Gaza was closed, and the daily invasion and the huge explosions of helicopters bombing of Gaza could be heard more and more often each passing day. Like everybody in Gaza, I sort of got used to this kind of life. The days Israel did not attack Gaza, we would call each other and ask what was going on.
I finished my BA degree and left Gaza while the same things continued to happen to my nephews, nieces and the rest of Gaza's children.  Only this time it is different, as the children of the "others" are suffering too and not just ours. The suffering was incommensurate as the use of force was greatly with the Israeli side that owns an organized well-armed military – the strongest in the region. In the first intifada, Israeli children did not know what was happening in the neighborhoods of Gaza, the West Bank and East Jerusalem. They didn't suffer because they didn't hear the bombs and bullets or smell the tear gas. Yet 25 years after the first intifada and 12 years after the second, the Middle East is still in political turmoil and the suffering of the children on both sides is increasing, challenging the future of the whole region.  The increasing tension, the new settlements and settlers, the checkpoints, rockets, and the political deadlock are all elements that make the challenge harder to tackle and solve.
In 2008, Israel initiated a military operation called "Cast Led" which ended with a huge number of casualties. Most of them were women and children under the age of 15. Last month, Israel started another military operation this time called "Pillar of Defense". This was different for me and will stick in my memory forever. This time most of my nieces and nephews are children under the age of 15. I called them daily and talked to them. This was a horrible experience. No one can feel the pain, sorrow and fear of losing loved ones, family, relatives and friends, only the one who experiences it and I did experience it. When you are thousands of miles away, getting your news from social media and news websites and you read that the building where your sister's home is has been bombed, you lose your faith and wait for the names of the dead to appear. You read the news, and memories flash in front of your eyes of the moments you shared with them.  On the other side, in Israel, there are many people who have gone through the same dreadful experience .
I knew the place very well. It was a government compound of the Palestinian Authority and before that a compound for the Israeli civil administration in the Gaza strip.  I had known it since I was 6 years old. My dad used to take me to his office on school holidays. I remember playing in the garden and drinking Nescafé! I grew up and it  grew with me as a symbol of Palestinian statehood. Now it is all gone and will not return. It will always remind me of the brutality and absurdity of occupation. Once a big building, now it is just rubble. We can build a new one but no childhood memories will be attached to it.
To hear your family crying, screaming, calling for help and knowing that you cannot help, makes you realize just how vulnerable you are. Israel's attacks were ruthless and showed no mercy for the elderly, women, and children. I have been told that Israeli warplanes just drop 2000KG bombs one after another in rapid succession.  The bombs shake the house and produces huge blinding flashes of red light that numb the brain.
I'm writing these words in 2013, but still I fear that my children will experience the same horror and the same terrible, appalling situation. I want my children and Israeli children to live peacefully side by side and to overcome their difficulties to find common ground for the two nations. Jews, Christians, Muslims and all others can live together and make a better future not only for themselves but also for their children and their children's children. This is our future challenge in this region!
Tags: Gaza, Israel, middle east, Palestine, peace & conflict