Australia ill at ease without Olympic gold rush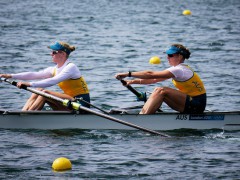 The Australian sporting psyche was established in the 1950's and 60's when the country produced an abundance of international sporting heroes. Dominating the pool, tennis courts and cricket fields, we quickly became used to the drug of victory.
When the inevitable low hit and we left Montreal in 1976 without a single gold medal to our name, we injected an abundance of cash into our sporting veins and created the Australian Institute of Sport.  By the time of Sydney 2000 the stars had realigned and our sports men and women were winning once again.
Up to then we had largely retained our dignity and humility in victory, save for those over England or New Zealand.  Nevertheless, we had realised the effort of how hard it had been to get back to the top.  Now though, 12 years after the glory of 2000 we are languishing, in our self built sense of entitlement to Olympic gold, much to the amusement of the Brits and Kiwis.
While most of our athletes have retained their dignity in London, even when not living up to their own lofty expectations, the same cannot be said for Australia's sporting administrators, who are lining up for a podium finish in the event of sour grapes.
AOC President John Coates and IOC representative Kevan Gosper have lambasted the federal government for not signing off on their request for $100 million dollars over ten years following the Beijing games in 2008.  Coates has also cited the absence of compulsory school sport as a reason for our poor gold medal tally.
Yes, money helps in training, developing and mentally preparing world class athletes, however if Australia wants to 'inspire a generation' as is the theme of these games, they need to celebrate every victory, be it a bronze, silver, gold, or simply a personal best.  An extra ten or twenty millions dollars (on top of the $30 million the swim team received in public funding) would not have guaranteed James Magnussen swim an extra 0.01 of a second faster.  No amount of money can account for the anomalies of sport.  If national pride is to be restored at Rio 2016, surely the effect of the our peak sporting bodies, being 'disappointed' in Australia's athletes, who have 'failed' at the Olympic Games will be a bigger influence on whether or not more gold medals are to be won.
'An individual medal at the Olympics is a dream come true,' were the thoughts of swimmer Bronte Barrett after she won bronze in the 200m freestyle.  Runner Steve Solomon was ecstatic to simply make the final of the 400m and ran three personal best times to reach it.  While Jessica Fox is arguably the comeback story of the Australian team, after capsizing in the canoe slalom qualifiers she went on and win a silver medal, 'It's the most beautiful thing I've ever seen,' she said afterwards.
These stories should be told over the perceived failures of our swimmers.  The Olympic heroes, medal winners or not, are those who 'inspire a generation' and will ensure greater chances for gold in the coming years.
Tags: aoc, australia, International Olympic Committee, ioc, london 2012, Olympic Games, Olympics