Certain about Uncertainty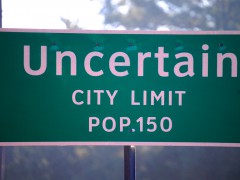 Our blogger Josh Grundleger reports about the Bertelsmann Foundation's fifth annual conference which focuses on economic growth through innovation, global financial governance and the eurozone crisis: "System Upgrade: Time for an Economic Reboot".

The Bertelsmann Foundation and its partner, the Financial Times, once again put together an insightful and intellectual conference on the state of the global economy, entitled System Upgrade: Time for a Global Economic Re-boot. It was held this past Thursday in Washington DC, bringing together a number of highly influential and well-respected policymakers and thought-leaders, from global ministers of finance to business leaders and politicians, all of whom offered nuanced and provocative insights into the state of the American and global economies. As it has done in the past, the conference covered a wide-array of policy issues—including financial regulation, labor markets, monetary and fiscal policy, innovation, job creation, trade and immigration policy, and the Bertelsmann Foundation's new non-profit rating agency, INCRA.
While the topics and opinions varied tremendously, an overarching theme developed around the issue of uncertainty. Whether it was former Minnesota governor Tim Pawlenty suggesting that regulatory uncertainty was the greatest impediment to investment, or Professor Michael Mandelbaum and Vincent Truglia arguing that the United States deserved an AA+ credit rating due to the uncertainty about the willingness of Congress to manage the debt and deficit situation, the issue was a dominating factor in many of the panels. Carly Fiorina, former head of HP, extolled that uncertainty over tax rates and regulations drives companies away from the United States. James Quigley, senior partner at Deloitte, echoed the sentiment, stating that businesses will only invest if they have level of certainty about the future regulatory environment. Uncertainty regarding European policies could lead to further woes if allowed to get out of control, argued Anders Borg, Sweden's minister of finance.
The level of accord on this issue was poignant, and refreshing. While in past years panelists had more divergent concerns and could barely agree on the problem, let alone the solution, this year's conference seemed to offer a growing consensus, at least in regard to one of the fundamental drivers of continued economic woes. Global economies, at least from the perspective of many of the panelists, are past the worst of the economic turmoil. Accordingly, the current stagnation is a result not of poor fundamentals but general fear about what the future holds. As politicians, policymakers, and countries struggle to decide on a set of policies, the various national economies are stuck in a sort of holding pattern, waiting for some clarity regarding the framework in which they operate.
James Quigley took the argument to a shocking but entirely logical conclusion—stating that the choice of between which policy is implemented is in some ways less important than having any clear and cogent policy in place. Without a comprehensible framework to operate in businesses will wait to invest, consumers will horde their cash, countries will hedge against their neighbors' woes, and the slightest glimmer of renewed recession will push individuals into panic.
However, as in any room filled with economists and policymakers, the disagreements were more plentiful than the agreements. If there was a near consensus that uncertainty is a drag on growth, there was a rigorous debate on what policies would help move the global economy forward. Is greater or less government involvement preferable? Should austerity or stimulus be implemented? Can American partisanship be broken? What policies will best lead to meaningful growth?
Nevertheless, the debate, throughout the conference, was healthy. Despite Quigley's argument, the proffered policy prescriptions represented significant differences in worldviews and potentially significantly different results for the global economy. And while there was no clear resolution or answer to the surfeit of economic issues, the growing consensus on the issue of uncertainty served as a hallmark of increasing accord and the potential that sometime in the hopefully not-too-distant future meaningful reform will be implemented to release the world's economic potential.
Further blogposts by Josh Grundleger about this year's conference:
INCRA: Rating the United States
Sovereignty versus Coordination: Is Europe Cured?
Tags: #bfna, conference, economy, global economy, recession, uncertainty