From little things, big things grow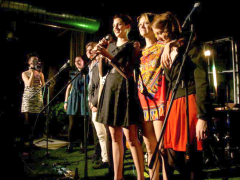 Make a Noise, Make a Difference
From little things, big things grow and for 19-year-old Whitney Stacey her passion has now branched into her very own charity.
Monochrome had its launch party, titled "Make Noise, Make a Difference," in Brisbane on July the 13th and hosted over 300 guests who turned up not only to see the fantastic line up of local bands but demonstrate their support for such an incredible individual striving to make a difference.
Monochrome, symbolically meaning the mixture of all colours and ethnicities, is a not for profit organisation committed to providing the children of Errat Care Centre orphanage in Tanzania with better facilities and ultimately empowering the youth of Tanzania to make a difference in their nation.
The Board of nine Brisbane students have worked effortlessly at putting together their charity. With Whitney's strength, drive and motivation to succeed, Monochrome is definitely a charity to keep an eye out for.
"I didn't think putting together a charity would be so much work! But I figured when I look at charities, how do we really know where all the money goes? So I wanted to start something where those who support it know their money is going directly to those they intended on helping" Whitney said.
Whitney went to Tanzania last year as a volunteer and worked hands on with the children, thus her decision for all the proceeds of Monochrome to go directly towards helping establish a better environment for these children and overall enrich their lives.
"I want people to look at Monochrome and see that youth can make a change to the world. Most of the time people our age will say, 'I want to do that' or 'I want to help' and then do nothing, I wanted to show that we can make a difference to other people's, children's lives!"
Eliot Hastie, Monochrome board member, said that the hardest part of starting the charity was seeking recognition.
"I contacted multiple local magazines, I talked to my university tutors and pulled out every contact possible. We managed to get a few articles with different publications, but not as many as we would have liked." He said.
Overall Whitney has noticed an overwhelming amount of support from friends and family. "I believe people are more willing to support purely because I am younger. I am a part of the younger generation and I am trying my very hardest to make a difference."
Guests at the launch party gave rave reviews on one particular aspect, apart from the bands, which was the opportunity to design a t-shirt that will be personally given to the children in the orphanage. "It was so awesome, not to mention I think our shirt was the best!" Guest Francesca Booker said.
"That element of the party was fantastic [Board Member] Zoe came up with the idea and I think it went really well. With any amount of luck someone will see my photos and say 'Hey! That's my t-shirt'" Whitney said.
Whitney is returning to Tanzania in a month's time to give the children the hand crafted t-shirts and further donate her time to the children. Overall, Monochrome aims to demonstrate the change each individual young person can make. There is no doubt that they will receive well deserved support and in time Whitney and her team of philanthropists will see the first hand benefits they have provided. "Anyone can make a difference, I'm just glad it's me!" Whitney said as her final note, with a smile stretched ear to ear.
Tags: australia, awareness-raising, Brisbane, charity, young people, youth