Future Challenges is looking for an intern!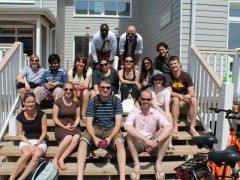 The Bertelsmann Stiftung is one of Europe's largest private operating foundations. It is a not-for-profit organization that, in keeping with the longstanding commitment of its founder Reinhard Mohn, seeks to shape a sustainable society.
Global megatrends and process of social change, mounting worldwide debt, and the global economic and financial crises this gives rise to, all have serious effects on national economic and social systems. The main aim of the Nachhaltig Wirtschaften (Shaping Sustainable Economies) program is to provide solutions that can ensure sustainable and viable framework conditions in an era of accelerating globalization. This can only succeed when account is taken of the variety of different national and regional perspectives. On the internet platform FutureChallenges.org an international network of bloggers from 65 countries at present write their own very personal points of view and open them up for discussion.
For our FutureChallenges.org project
we are looking for a hands-on intern for a period of four months starting in August 2013
You will support us in:
Communicating with our international network of bloggers
Processing of invoices
Upkeep of social media at FutureChallenges.org
General research activities
Producing the monthly Newsletter
Event management
You will have:
(at least) a BA in economics, communications or political science (or another equivalent discipline) and/or should have nearly completed your degree course
A solid understanding of social media
Good skills in dealing with figures and excellent Excel skills
Experience in the field of globalization (other internships are an advantage)
(Very) good writing and communication skills
A ready understanding and quick grasp of new tasks
The ability to work independently and in a structured manner; organizational ability
Team spirit
Excellent skills in spoken and written German and English
The internship is paid. Bertelsmann Stiftung is an equal opportunities employer. If you have further questions about the project, please contact Dr. Ole Wintermann (ole.wintermann@bertelsmann-stiftung.de) who will be glad to assist you.
Closing date for all applications: Tuesday, 9th July.
Tags: Bertelsmann Foundation, Bertelsmann Stiftung, blogger network, bloggers, communication, intern, internship, social media