Global Economic Symposium Reader: Redefining Success!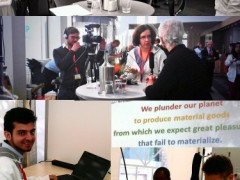 This article is the foreword published in "Redefining Success", written by Thomas Rausch.
For decades, decision-makers in politics and business have measured success in "hard currency": the GDP of an economy or the profit of a company have served as the gold standard of their respective welfare. The global economic and financial shakedown which began in 2008 has accelerated the widespread questioning of this traditional measure of success. A new global consensus has emerged around the idea that financial gain is an insufficient criterion for social progress and corporate success. We need new measures of success and concepts which take into account the sus- tainability and inclusiveness of wealth. We also need to pay more attention to individual fulfillment and happiness. These concepts are notoriously difficult to define and measure and we are still far away from reaching a common understanding of a better model for comprehensive progress. However, in an interconnected world with many transnational problems establishing such a common understanding would come in handy.
The Global Economic Symposium (GES) put the question of how to redefine success front and center at its 2013 convening. Founded and organized by the Kiel Institute for the World Economy and supported by the Bertelsmann Stiftung as a Strategic Partner, this annual conference brings together politicians, business executives, scientists and activists with different cultural and profes- sional backgrounds. In Kiel on October 1 and 2, 2013, they tried to find new ways to measure whether a society or company is on track to progress. These experts were joined by a group of nine bloggers from different parts of the world – from Poland to Pakistan, from Uganda to the United States. Instead of sitting on the sidelines, these bloggers joined the GES discussions from the start. They interviewed senior decision-makers and challenged established views with their thoughtful questions. Moreover, the bloggers opened up the conference to an online audience by posting blogs and tweeting about the GES' substance and tone. As a result, they became substantial pillars of conference's progression and impact.
This reader attests to the importance of their work. It provides an overview of their critical assessments of the GES 2013's deliberations. In several brief accounts of their first-hand experiences at the venue, the bloggers assess whether the conference has really met its original goal and provide new insights on the debate about how to redefine success: Is there a new definition of success that does not apply only to a few wealthy countries but also takes into consideration the needs and perspectives of the developing world? Are there any new ideas or even elaborate concepts about how to combine traditional quantitative indicators of growth with new qualitative ones for progress? Which local or national best practices can be translated to other regions or even to the global stage? Which companies or organizations have a strategy for sustainable and inclusive growth in place? We hope you will enjoy this Future Challenges Reader. Future Challenges is a global network of young authors, activists, academics and observers who work to illustrate the true complexity of our modern world.
Tags: economics, future challenges, gdp, GES, Global Economic Sympsoium, leadership, politics