Putin's Choice, Creative Class, and the Future of Russia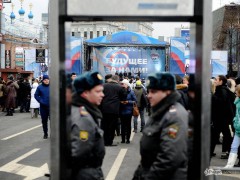 Putin's choice: heavy industrial and military development
On March 4, 2012, following just few hours after the preliminary results, workers of UralVagonZavod, Russia's biggest producer of tanks and armored vehicles and the largest main battle tank manufacturer in the world, congratulated Vladimir Putin with a victory in the presidential race. Putin addressed tank factory workers in a grateful reply:
"I've noticed […] how you brought down a peg or two those people who went to extremes to insult laborers. […] It turned out that your intellectual level is 2 times higher than of those who considered themselves [allmighty]."
What Putin meant by 'those who went to extremes' was the large class of 'angry citizens,' who was the main force behind the 2011/2012 election protests. Stanislav Govorukhin, head of Putin's election headquarters, a man who 'does not use the Internet but who reads print-outs,' went even further to call liberal opposition, consisting mainly of the same citizens 'a crap of the nation.'
It seems that Putin had masterfully chosen more controllable (and obviously larger) social groups as his electoral basis. Working class, especially those people working at the military plants like UralVagonZavod, were presented 'as the real Russians' in opposition to the 'rotten and treacherous' urban elites that demanded Putin's dismissal.
Earlier, in Autumn 2011, Putin had declared that if elected, the military expenditures would significantly raise. In February 2012, in his election program article Putin explained his vision of future, where 'military government order was the only economy's driver in times of crisis.'
Creative class left behind
Vladimir Putin probably has never read any of Richard Florida's books. Richard Florida is a renowned American urban theorist mostly known for his 'Creative Class' concept. Because if Putin had read it, he'd see that condemning urban protesters and choosing good old industrial path, is the measure that in the nearest future can not only prevent modernization but lead to the economic collapse.
Why do we call anti-Putiners' a creative class? It is evident that massive crowds protesting against Putin in Moscow, Saint-Petersburg or any bigger city in Russia this winter, considered creativity as its virtue and a distinctive feature. Few glances at the protest symbolism or ICT innovations fostered during protests can be provided as evidence (compare it to printed-out , commonplace symbolics of Putin's supporters). Besides, most protesters were technologically savvy, 'gadgetized,' highly educated and with a higher income.
Therefore we can identify that one of the most vocal groups (although, not the only one) of anti-Putin forces was indeed a Russian creative class.
According to Florida's research, American creative class accounts for nearly 30 percent of the workforce. In Russia, this number is apparently much smaller. While the Internet alone contributes so far about 2 percent of the GDP, the creative class's share in the economy is about the same size. Indeed, not big, at least for a few years.
Its efficiency economy-wise, however, is much more sufficient. E.g. Yandex search engine, one of Russia's most innovative companies, employs nearly 3,000 employees. Yet, its 2011 revenue is twice higher than of aforementioned UralVagonZavod, a factory that employs almost ten times as many people.
In the 30 years perspective, will the heavy industrial production that needs lots of workforce, viable at all?
The road to economic collapse, paved with modernization intentions
From the perspective of interconnected world, situation in which Putin had trapped himself is a pitiful one.
He made a choice on the outdated hierarchical industries in the age of growing networks. Many observers link this decision to Putin's idea of creation of centralized 'Chaebol'-type corporations like those created in the post-war South Korea ('Goskorporacii, governmental corporations developed on the eve of 2008 elections was the first step in the long-term Putin's plans).
Russia, however, is not in the middle of the XX century but in the beginning of the XXI century. And what has worked before the Internet age seems unlikely to repeat once again, especially Russia's conditions are really different from the South Korean.
Instead of promoting XXI century-type creative economy, Putin goes backward with the top-down model of state-led development ignoring the voices of creative minority and imposing the uniformity and centralization of thinking, voting, and working.
Authoritarian modernization, you say? OK, let's try. But in order to make it work, you still need ideas and you still need those people who have these ideas. Those people who want to have their voice heard; who want to have their taxes to provide them the representation, who want to have a diversity to fit their developed needs, and who want their human dignity to be respected.
Putin offers none of these.
And the biggest problem with the creative class is that if you don't develop the environment that fosters creativity, the creative class will simply leave. Buying a ticket and applying for a job abroad is now much simpler than it was even 20 years ago.
And it's much more motivating to leave when top officials call your group a 'nations' crap' and a bunch of traitors.
Europe and the United States can't be more happy to have Putin around in this case, as the inner conditions of Putin's third reign will increase the flow of highly skilled laborers to their markets (worse skilled laborers won't be able to emigrate due to language and financial barriers).