Worldwide Blogger Network Wants to Thrive!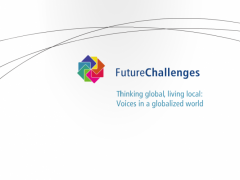 "Projects can be further defined as temporary rather than permanent social systems or work systems that are constituted by teams within or across organizations to accomplish particular tasks under time constraints."  Wikipedia
Conceived in such terms by the Bertelsmann Stiftung, the FutureChallenges project is now facing its own particular time constraints. The project will continue to be actively supported for a short transitional period, then the financing will come to an end, leaving the network to stand on its own feet. Yet the flame should not be extinguished, the people involved in the network are determined to continue.
For its authors and readers FutureChallenges is now much more than just a "unique project". FutureChallenges now stands for some 120 bloggers from over 60 countries from a broad array of different cultures. And our global readership is at least as colorful and diversified. One thing unites us all: our common commitment to human rights, social justice and mutual understanding across cultural boundaries.
This is why to ensure the continued existence of this inspirational project we have decided to embark on the new course of setting up FutureChallenges as an independent entity outside of the Bertelsmann Stiftung and of transferring control to the hands of the Futurechallenges.org-coreteam and the bloggers. Ensuring the continued development of a global network of bloggers is a great venture we look forward to with confidence.
Over the years futurechallenges.org has matured an editorial process consisting of an editorial core team, nine Regional Editors who supervize and work together with the teams of bloggers in different regions of the world,  project managers, translators, and a social media manager.
Maintenance of a professional network requires long-term financial and structural resources. This is why the Future Challenges Team is now looking for prospective backers.
What we offer is a rich and diversified range of perspectives on globally relevant themes and issues. With our decentralized international network we are able to respond quickly to pressing issues of the present, produce content and place it effectively in national media channels. Future Challenges has a huge community in the social networks and enormous outreach in the social media. So we guarantee that your themes will be widely aired and debated in active dialogue.
Our information brochure will give you the key facts about Future Challenges. We are looking forward to hearing from you and will be glad to answer any enquiries.
Tags: blogger, blogger network, Foundations, globalization, networks, sponsor, supporter, think tanks