Ninjas destroying Mongolian Grasslands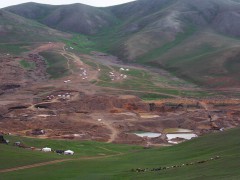 A modern "Ninja" is far from the deadly Japanese warrior that one has in mind. Instead these are Artisan miners in Mongolia who dig dirt, live as outlaws and seek  gold from old/used mining fields.
The grasslands of Mongolia are scattered with neglected gold mine sites which have not been closed off in an environmentally friendly way once the mining work is over. Instead, companies have irresponsibly neglected these sites which are now being scavenged by the Ninjas. While this gives locals a way to earn some money, this practice is environmentally degrading and we see children being exploited.The problem with ninjas started from 2000  onwards because of the "Gold program" which was implemented between 1991-2001.
The initiator of the "Gold program" was the First President of Mongolia, P. Ochirbat. Today Mongolian CSO's and citizens blame him for glaring environmental damage and for the destructive behavior of the ninjas. But the President defended himself and explained: "we could not find another good version in order to save people from hunger when there is nothing in shops except salt in 1991, that time, the situation was difficult when socialism was broken down and Soviet Union of Russia stopped  its assistant anymore'…
According to this this piece of information the production of gold mining increased by more than 20% in 1991-2001. The amount of gold delivered to the central bank was 15232,9 kg in 2005, a dramatic increase from only 806 kg only in 1996.
At the same time, the contraband of  gold increased in the last few years, and about 95,8 kg of smuggled gold was seized  between 2006-2010.
After 2000 the ninjas became the destroying force of the environment in Mongolia and in the last 20 years they have been responsible for much of the damage.
As mentioned here everyone of 100,000 ninjas picks up at least 1 gram gold per day, and it means 3000 kg of gold per months. But the officials say that the amount of delivered gold to the central bank Mongolia has decreased in the  last five years.
This interview took place at the mining site Uyanga soum of Uvurkhangai province last summer:
These are the ninjas who are digging in Uyanga soum village of Uvurkhangai aimag province in Mongolia. Actually the numbers of ninjas usually increases to about 10,000 in the summer in this area where the Ongi river starts from the range named Taats coming from Khangai mountain.
The evaporation of the Ongi river because of the destruction of the environment created much suffering for more than last ten years for people who live in the Gobi. Mongolia is the most affected area from desertification, especially in Gobi. The Ongi river was the only one water resource of Gobi's life, and now this, too, has been adversely impacted.
The first dramatic thing that caught my eye was that there were children working there. Everywhere children were washing the shoveled dirt in big green bowls sitting around little pools of water among the dams. For them, they have no ideas about summer vacations or relaxing because they have to help their parents and family members in this work of sifting for gold.
Some of the children told me that they were working for their tuition fees and new clothes for the next school year.  In fact many parents of these children told us: "we have no jobs and so we have to choose a ninja's life for the sake of our  children's future".
One little boy who approached us eventually climbed up the dam when our jeep  stopped at one of these little pools.  We talked to this boy  who was 12 years old and had been working here for the last five years in order to help his family.
His hand's  were scratched and they were raw. I worried that the poor little boy might even be poisoned because we had heard that the ninjas used toxic chemicals in order to sort the gold from the dirt.
"Could you please tell me when do you come here and whether you come back every year?" I asked.
"I come here in June and then back around 20th of August," he said.
"Your hands are all wounded, let me see it…  Do you wash the dirt just in water or mix it with some chemicals?"
"Just water," he replied.
" Did you see or find any gold?" I asked.
"Yes, i did. It is very nice, yellow coloured thing," he said.
"Can you tell me how much gold you sort out from one bowl dirt?"
"I don't keep track. At any point, we sometimes find some dust, he said.
"What is the dust?"
"The dust is very fine filaments of gold. Also, sometimes we find a star.The star means a bigger piece of gold, like this." He took a little stone and showed me. "Sometimes we find bigger ones than this one."
"How many days does it take in order to accumulate such an amount of gold? Is it possible in one day?" I asked.
"No. It takes many days".
"What is your name?"
"Tumee"
"Do you come from Uvurkhangai province?"
"No, I am from the South Gobi province. I came here with my sister."
"Is your family now in South Gobi ?"
"Yes."
"Do you go to school?"
"Yes, I have just graduated fifth class this year."
Tags: environmet, mining, Mongolia, Ninja's