The Olympics: Guess What? Nepal Was Also There!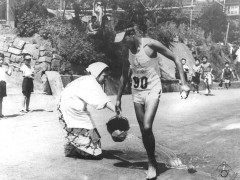 Nepal – the name conjures up images of mountains, rivers, temples and chaotic urban centers. Sporting strength is not something usually associated with the country.
Indeed, the recent London Olympics 2012 were yet another missed opportunity in the long list of disappointments for Nepal. No, we are not counting our medals here – most athletes failed even to better their already below par performance record while some few did show a rare glimmer of hope.
According to Republica, sprinter Tika Ram Tharu, finished 13th out of 29  at the London Olympics, improving his timing by 0.15 seconds. He missed the chance of becoming one of the 10 sprinters contending for a medal in the finals only by a narrow margin. If he had overcome this hurdle, perhaps it would have eased the anguish of  1958 Asian Games.
In those Games, Bhupendra Silwal suffered serious injuries after being forced to run barefoot. Nepali sports officials had failed to buy appropriate shoes for him and their negligence tarnished the country's name and crushed an athlete's dreams. Mr. Silwal was also Nepal's first Olympian and participated in the 1964 Tokyo Olympics 1964 as well – where all his hard work went unrewarded, yet again.
Even when athletes manage to overcome odds and beat expectations, they rarely get the status, recognition and opportunities their talent deserves.
Bidhan Lama, the tae-kwando athlete, is one example. He won a bronze medal at the Seoul Olympics 1988 (tae-kwando was a demonstration sport at that time).
Yet the lack of opportunities in Nepal forced him to seek them abroad. He currently runs a tae-kwando training and fitness center in Portland, Oregon.
Forgotten athletes, deserving talents held back by red tape, sheer indifference and a dismal level of investment in sports are reasons enough to just forget about Nepal's sporting future and its Olympic dreams.But this is not the finishing line.
In recent years, Nepal has made great strides in football and cricket while the  participation of women in various sports has also increased. Club level football competitions are organized regularly, and media coverage has also expanded – both on and offline.
Nepal currently ranks 162 in the FIFA World Ranking, Indiaclocks in at 168 and Spain is the top team out of 206 football playing nations.
In cricket too, Nepali players are showing lot of promise in spite of the challenges posed by infrastructure. In 2011, the national team placed 4th in the Asian Cricket Council Twenty20 Cup and reached the quarterfinals at 2010 Asian Games.
Swimming has also now established itself as a sport, unlike in the past when it was seen as a luxury pursuit of the wealthy. The London Olympics saw the participation of two Nepali swimmers – Shreya Dhital and Prasiddha Jung Shah.
Nepal has participated in eleven summer Olympic Games, and three winter games. The bronze medal awarded to tae-kwando athlete Bidhan Lama at the Seoul Olympics (exhibition game) is the only time in the history of the modern games that the country has been honored.
Yet as I've said, this is by no means the finish line. Nepali sports lovers and the hardworking athletes have much to be proud of and so much more to achieve. The country has been in a state of turmoil for more than a decade, and so has the state of its sports. Much more can be done if Nepal becomes stable and the economy starts to breathe again. I keep my fingers crossed!
Tags: Athletes, london 2012, nepal, Olympic Games, Olympics, sports