Farmland in Pakistan – a new food colony for the Middle East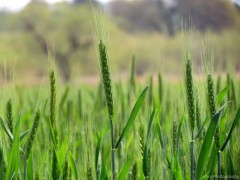 Pakistan is one of the few countries with abundant natural resources highly sought after by other countries in its region as the majority of countries around it are struggling to cope with rising demand for food. Agriculture is one of the main sectors of the Pakistani economy and has made it a prime target for what I call farmland grabbers. With five big rivers and an extensive canal system dating back to its colonial era, Pakistan is a great place for developing agriculture and livestock. In the recent past, however, many Middle Eastern countries have invested heavily in the country, acquiring big chunks of prime farmland and creating massive farms. These farms function as guaranteed supply bases for the growing food needs of their own populations.
Two of the Middle Eastern countries that are quietly working away on this are the United Arab Emirates and Saudi Arabia. The whole process is kept off the radar as both countries have set up front organizations to acquire land and those selling often have little idea who they're actually selling to.  The Dubai based Abraaj Capital, the Emirates Investment Group and the Abu Dhabi Group are just three of the investment companies that have been involved in this project since 2007. According to my sources, various UAE based government and private entities have acquired prime farmland totalling more than 120,000 acres in Pakistan. The same goes for Saudi Arabia that has bought hundreds of thousands of acres of land under the banner of the Saudi Fund for Development  – reportedly in return for free oil or oil on differed payments.
The governments of both Saudi Arabia and the UAE rely on imports from Pakistan and other countries for food. In the case of Pakistan, constant changes in government and the lack of clear policy had led to such direct intervention. The motivation for this is clear and simple: it's to have an unimpeded supply of essential foodstuffs in order to curb inflation and ensure availability at all times. This might be a good deal for Saudi Arabia and the UAE but it's be a massive blow to local farmers and producers. The UAE is Pakistan's largest importer in the Middle East and its main import items include foodstuffs like fruits, vegetables and livestock. The total annual import bill is around $2 billion but this might not be the case soon as such direct control of farmland means that locals might not benefit from it. The total annual bill of exports to Saudi Arabia is around $3.3 billion and that too is mainly in foodstuffs like rice, fruits and vegetables.
The government is adamant that they are not selling or giving away these lands but locals tell a completely different story. Other government statements about raising productivity also fall short of reality because the government has failed completely to provide farmers with the facilities they need to export their products. Raised productivity levels mean nothing if there aren't sufficient resources available to ship the products abroad.
Talking about exports, Pakistan is world famous for its various types of mangoes. However, the majority of mangoes produced never leave Pakistan, because Pakistan International Airlines has a monopoly on the market and adequate facilities to store and ship. Shipping the mangoes is a mammoth task for many farmers or exporters because they do not have enough resources to convince PIA to take their mangoes because PIA only takes the produce of those who have influence. Recently some private carriers were allowed into this market but that is not sufficient, because most of them carry the products in belly cargo. Given the limited shelf life of fruit and vegetables, most of the time failure to ship products on time means a total write-off.
Another argument put forward by the local farmers is that the legal and tax incentives dished out to foreign investors should be given to them. The government has given foreign landowners special exemptions on government export bans and other red tape. The worrying part for local farmers and the general population is that the price of food has more than doubled in recent years. Pakistan is struggling to keep up with its growing population while also feeding its neighbour Afghanistan so any reduction in farmland used for the production of staple foodstuffs will have a lasting impact on the country. Pakistan's current population is between 175 to 187 million which by 2025 is estimated to reach more than a quarter of a billion, making Pakistan the world's fourth largest country by population. With devastating floods and a dying agriculture sector,  this land give-away is a deathblow to the food security of millions of Pakistanis.
Pakistan cannot serve as a granary for other countries while the high price of food is driving its own people to suicide.  The country is already witnessing massive disruption due to the high prices or scarcity of food. Food prices were the decisive factor in the 2007 election as Pakistan was hit by a major wheat and sugar shortage. The effects of these under-the-table deals might not be visible at the moment, but with the passage of time they will start impacting on the local economy and Pakistan's overall export earnings.
Land grabs are also affecting Pakistan's environment in areas where massive numbers of migrating birds come to spend different seasons. The hunting of exotic and migrating birds by dignitaries mainly from the UAE, Saudi Arabia, Qatar and Bahrain are adversely affecting some endangered species. The Pakistani government as usual remains silent or is defensive showing its totally inability to cope with the situation. The chief victims are birds like the Houbara bustard and some types of falcons exclusively found in the provinces of Balochistan and the southern parts of Punjab. Newspaper reports from 9 November 2010 show that 28 permits were issued to four Middle Eastern countries. 13 licenses were issued to the UAE alone including licenses issued to Sheikh Khalifa bin Zayed Al-Nahyan the president of the UAE, Sheikh Mohammad bin Rashid Al Maktoum the ruler of Dubai and many other top officials. For the Saudi royal family one license was given the late crown prince Sultan bin Abdul Aziz Al-Saud and one license to his successor Naif bin Abdul Aziz. Qatar's Amir Sheikh Hamad bin Khalifa Al-Thani also got a licence.
There has been no effective control of visitors in the past and we can hardly hope that in future Pakistanis will be able to control this farmland grabbing by foreigners which is what really worries the majority of farmers. With no clear legislation dealing with such issues there is little hope that this will be beneficial for Pakistan and its land. The best way would be to allow more cargo facilitation for sending produce abroad through a clear channel. Instead of selling the land why can't the government set up collective farms managed by Pakistanis and funded by government or join with investment companies from any other country? This would boost the economy while keeping the land and farms in the hands of those who already own them.
Tags: Houbara Bustard, Mango, pakistan, Saudi Arabia, United Arab Emirates